7 Days Lhasa to Kathmandu Overland Group Tour with Mt.Everest & Yamdrok Lake
Recommended Rating: 5 Star
Tour Code: AOT-TGT-G

Travel Route: Lhasa - Yamdrok Lake - Shigatse - Mt. Everest EBC - Gyirong Town - Gyirong Border

Features: World Heritages, Architectures, Religious Sites, Nature Wonders, Lakes, Mountains, Adventure

Tour Type: Small Group of maximum 12 travelers, guaranteed departures

Guide & Driver: English-speaking guide, experienced driver with an air-conditioned coach

Accommodation: 6 nights at good 3-star hotels/guesthouse/tents
Lowest Price Guarantee & Free Cancellation.
Reserve Now and Pay Later.
Itinerary
Dates & Price
Accommodation
Trip Notes
Join our most popular group Tibet tour in 2023, which takes you from Lhasa to Kathmandu via EBC and offers a seamless and cost-effective way to discover the stunning highlights of Tibet.
Compared to the classic 8-day Lhasa Mount Everest Base Camp tour, this 7-day Lhasa Kathmandu overland tour saves you one day by providing a direct departure from EBC to Gyirong Border, eliminating the need to drive back to Lhasa. This not only saves you time but also makes the journey more convenient and efficient, allowing you to fully immerse yourself in the breathtaking scenery and cultural treasures of Tibet.
During the first two days, you'll have the opportunity to witness the grandeur of Lhasa, including the world-renowned Potala Palace, Jokhang Temple, and Sera Monastery. You'll also have the chance to make Tibetan incense at the Lhasa Traditional Handicraft Art Center, creating a memorable and authentic cultural experience. Following this, we'll take you on a scenic drive along the Friendship Highway to Shigatse, where you'll be treated to breathtaking views of the unique plateau scenery of western Tibet, including the turquoise waters of Yamdrok Lake and the breathtaking Karola Glacier. Continuing on the journey, you'll reach the closest point to the sky at Everest Base Camp, where you can bask in the beauty of its serene surroundings. If weather permits, you'll even have the chance to witness the stunning sunset over the golden peak of Everest. The following day, you'll make your way down to Gyirong Town before finally reaching the Gyirong Border between Tibet and Nepal, where you'll conclude your adventure in Kathmandu.
In 2023, the border has opened, making it the perfect time to take our Lhasa to Kathmandu & Tibet EBC Tour, which combines Tibetan culture, religious architecture and artworks, ancient relics, natural wonders, and thrilling adventure experiences.
Take This Tibet Group Tour and You will Experience:
Lowest Price Guarantee
Explore various destinations of Tibet (Lhasa, Yamdrok Lake, Shigatse, Mount Everest) at the lowest price. It can save BIG compared to a private tour.
No Shopping in Tibet
Go with Asia Odyssey Travel's well-designed Tibet small group tour, and you're guaranteed with "100% No Shopping Stops".
Unforgettable Travel Experience
Travel with like-minded travelers in the stunning destinations on our Tibet small group tour. You'll get in-depth and intimate experience as a private tour.
Comfortable Pace for Classic Exploration
With ease and comfort, from big wows to hidden gems, our Tibet small group tour leaves you feeling that you've really explored. You won't miss any highlights of Tibet.
Itinerary Day by Day
Day 1 Arrival in Lhasa | Airport Pick-up and Hotel Check-in
Altitude: 3650m | Distance: 100km,about 1.5 hours' drive
Altitude: 3650m | Distance: 100km,about 1.5 hours' drive
Tashi Delek! Welcome to Lhasa, the capital of the Tibet Autonomous Region! Upon your arrival at the airport in Lhasa, the tour guide and driver will meet you at the exit, and then escort you to the hotel in downtown Lhasa (100km, about 1.5 hours' drive) . You can have a good rest to get used to the altitude (3,650m) in your hotel and get ready to explore Lhasa with your guide the next day.
Arrival Ideas:
Lhasa is located in the southern part of the Tibetan Plateau and southwestern China. Traveling to Tibet is convenient by air, railway, or road. There are five airports in Tibet, with Lhasa Gonggar Airport being the most popular for flights from Chengdu (which is also popular), Chongqing, Xian, Beijing, Shanghai, Guangzhou, Kunming, Xining, Shangri-La, and other cities. One international airline even connects Lhasa and Kathmandu. Moreover, travelers can take the train to Lhasa from Xining (21 hours, the starting point of the Qinghai-Tibet Railway), Lanzhou (24.5 hours), Chongqing (35.5 hours), Chengdu (36.5 hours), Xian (31 hours), Beijing (40.5 hours), Shanghai (47 hours), Guangzhou (52.5 hours), Shigatse (2.5 hours), Nyingzhi (4 hours), and other cities.
Kind Reminds:
1. Pick up/drop off: Foreign and Taiwanese travelers need a tour guide to pick up/drop off according to the regulations of the Tourism Administration. Chinese traveler without foreign partner will pick up/drop off by local professional Transfer Center. Our staff/guide will contact you in advance, please ensure that your mobile phone is unobstructed.
2. It is good to avoid altitude sickness by slowing down, keeping warm, drinking water frequently, avoiding showers for the first one or two days, taking it easy, and sleeping well.
3. You should always follow your doctor's advice regarding altitude based on your health condition.
4. Be sure to let your guide or the hotel staff know whenever you feel unwell or need help. The people there are always willing to help and are good at dealing with altitude sickness.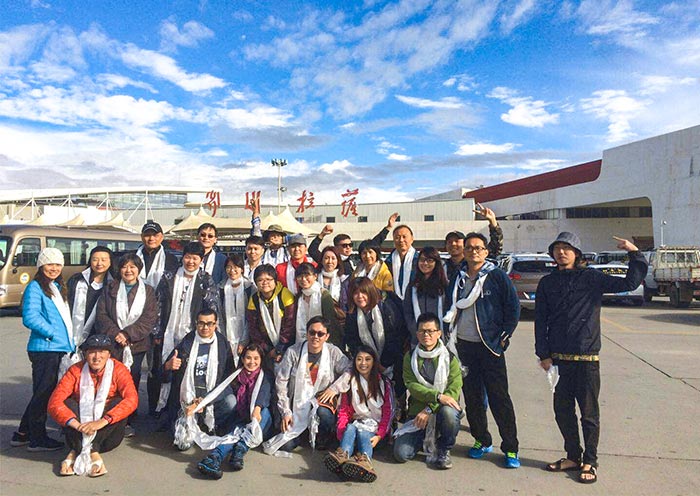 Welcome Our Dear Guests at Lhasa Airport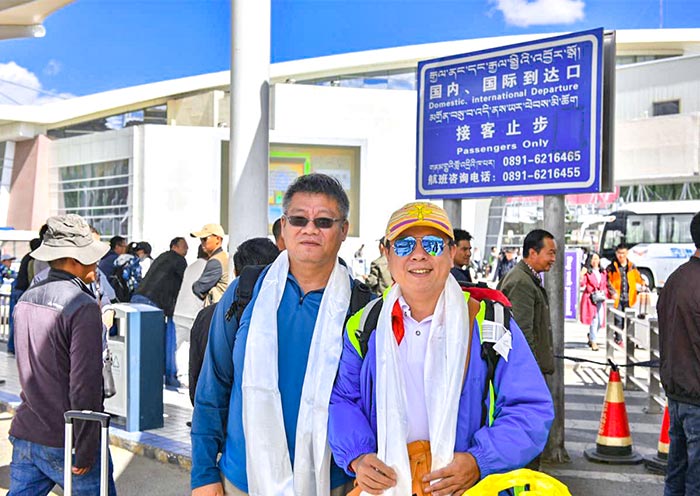 Meet Our Guests at Lhasa Airport
Attractions
have a good rest to get used to the altitude
Transportation
arrive in Lhasa by yourself; pick-up service while in Lhasa
Accommodation
standard hotel in downtown Lhasa
Day 2 Lhasa City Tour | Jokhang Temple, Sera Monastery, Barkhor Street
Lhasa: Jokhang Temple, Sera Monastery,Barkhor street
Altitude: 3650m
Today, you will explore Lhasa by visiting Jokhang Temple, a world cultural heritage site renowned for its brilliant architecture, culture, art, and history. After that, you will experience Tibetan Buddhism by witnessing the Monks' Debating in Sera Monastery. Finally, you can stroll through the famous Barkhor Street with locals and learn more about the daily kora life of Tibetans.
Located in the heart of Lhasa for over 1300 years, the Jokhang Temple is an important pilgrimage site for Buddhists from all over the world. Famed as the spiritual center of Tibet, it is said that the Jokhang Monastery was built for King Songtsen Gampo's two brides: Chinese Princess Wencheng and Nepalese Princess Bhrikuti. "Jokhang" means "House of Buddha", and it houses a life-size statue of the 12-year-old Sakyamuni, which is considered a treasure of the Buddhist world. This is why Buddhist pilgrims consider it the holiest destination. The Jakhong temple is also renowned for its beautiful architecture. You can admire the intricate carvings, colorful murals, ornate decorations, and details of the building, which is a masterpiece of Tibetan architecture. Time seems to stand still as you watch people pray in front of the temple during the day and night. (Please note that the visit order may be adjusted based on the reservation of your Jokhang Temple Ticket Reservation.)
In the afternoon, drive approximately 30km (50 minutes) to visit Sera Monastery, which is one of the three great Gelug university monasteries of Tibet. It offers the opportunity to experience Tibetan Buddhism up close. The highlight of Sera Monastery is watching the monks' debate, which takes place around 15:00-17:00 (except on Sundays). The debate is an interesting form of exchange, where one monk acts as the questioner, standing while the answerer or group of answerers sit. The standing monk asks questions and slaps his palms and stomps, each action having a special meaning, such as activating wisdom, and are not meant to be aggressive. You will also have the chance to attend prayer ceremonies, visit meditation halls, and learn about the monastic way of life. It is a must-visit destination to gain insight into the beliefs and practices of Tibetan Buddhism.
Afterward, head back to downtown Lhasa for a walk on busy Barkhor Street near the Jokhang Monastery, which was a place for Buddhists to do a kora (pilgrim circuit) in ancient times. Nowadays, it has become a thriving local market where you can drink a pot of yak butter tea, dress in Tibetan clothes for photos, and pick up some local Tibetan, Nepalese, and Indian handicrafts and souvenirs.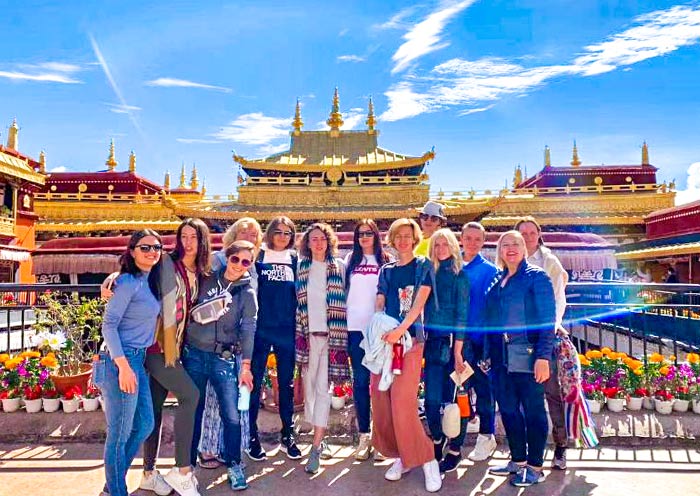 A Large Group of Our Guests Visited Jokhang Temple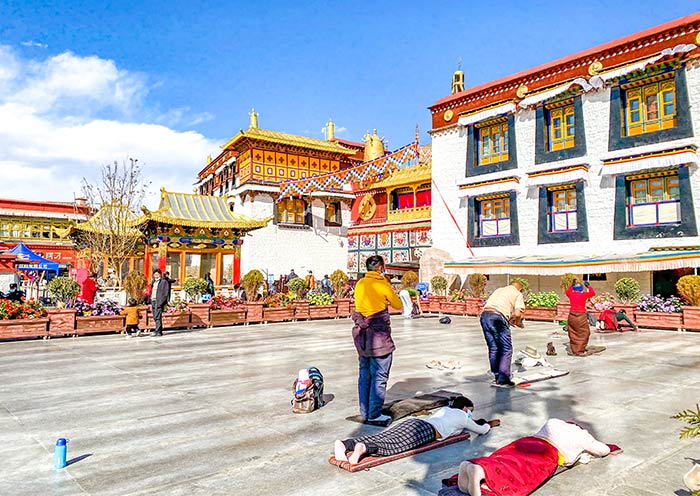 Local Tibetan Pilgrims Prayed in front of Lhasa Jokhang Temple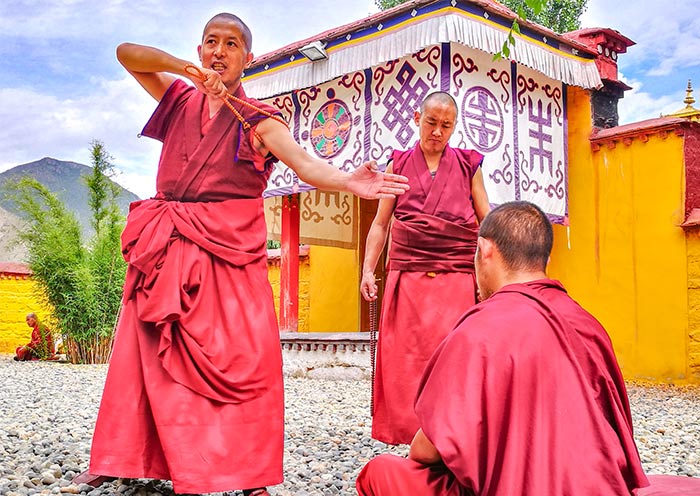 Lhasa Sera Monastery Daily Debate Scene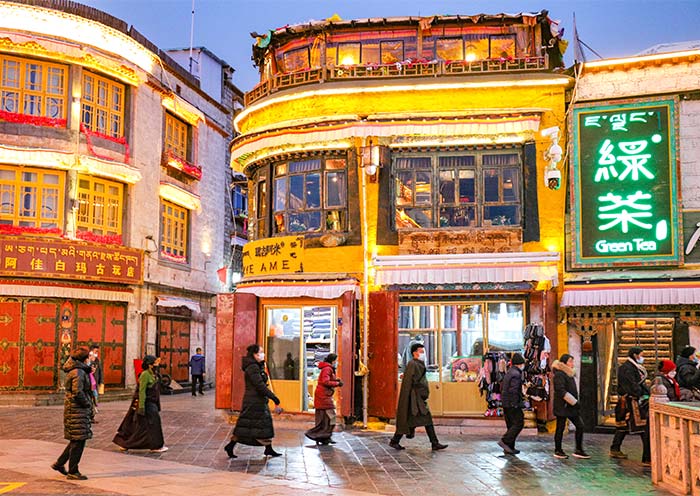 Restaurants along Barhkor Street
Attractions
3 iconic sites
Accommodation
standard hotel in downtown Lhasa
Day 3 Lhasa Culture Tour | Potala Palace, Lhasa Traditional Handicraft Art Center
Lhasa: Potala Palace, Lhasa Traditional Handicraft Art center
Altitude: 3650m
Today, it is the time to explore Lhasa by visiting the world-famous Potala Palace, a World Heritage site and the picture behind the 50 RMB. Then have fun in the Lhasa Traditional Handicraft Art Center for a close touch of Tibetan culture.
In the morning, you can walk up to the Potala Palace to explore. Not only is it the landmark of Tibet, but it is also the traditional residence and winter palace of the Dalai Lama (1649-1959). After climbing 365 steps from the gate of the Potala Palace to reach the Red Palace, you will arrive at the highest palace in the world at an altitude of 3,700m, where you can enjoy an excellent panoramic view of Lhasa city. As you explore the principal halls, chapels, and shrines of past Dalai Lamas in the Red Palace, you will be amazed and moved by its remarkable paintings, gorgeous jeweled works, skilled carving, colorful ornamentation, and the mystery stories behind the treasures. Inside the Potala Palace, you will meet many Tibetan pilgrims who come from afar to pray at this sacred site, making it a lifetime destination for them. You can also ask your guide to provide more stories about Songtsen Gampo, the 33rd king of Tibet, who first built the Potala Palace in the 7th century for his marriage to Princess Wencheng of the Tang Dynasty. (Please note that the visit order may be adjusted based on the visiting time specified on your Potala Palace ticket. All visitors are required to visit the palace with a tour group and remain inside for one hour. Please be advised that photography is prohibited inside the palace.)
In the afternoon, enjoy the experience at the Lhasa Traditional Handicraft Art Center, fully immerse yourself by making Tibetan incense, Tibetan calligraphy, and the secrets of block printing. Tibetan incense is typically burned as an offering during religious ceremonies and rituals in Tibetan Buddhism. The ingredients used for Tibetan incense usually include juniper, sandalwood, cedarwood, cinnamon, cloves, and various medicinal herbs. Besides learning how to make Tibetan incense, you can also participate in writing your own name in the Tibetan Language with the help of a local teacher, and engraving and printing it out. Handmade Tibetan incense and printed text can be taken home as a souvenir of the Tibetan cultural experience.
In this evening, you and your group will be treated to a specially arranged welcome dinner, typically featuring delicious Tibetan cuisine.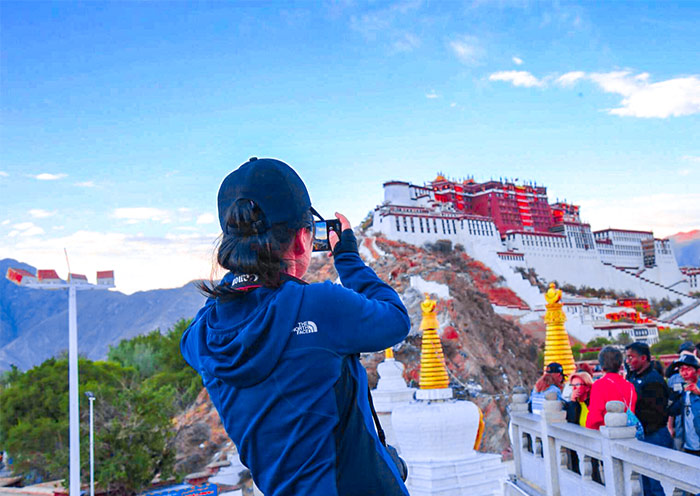 Take Photos at Potala Palace from Yaowang Hill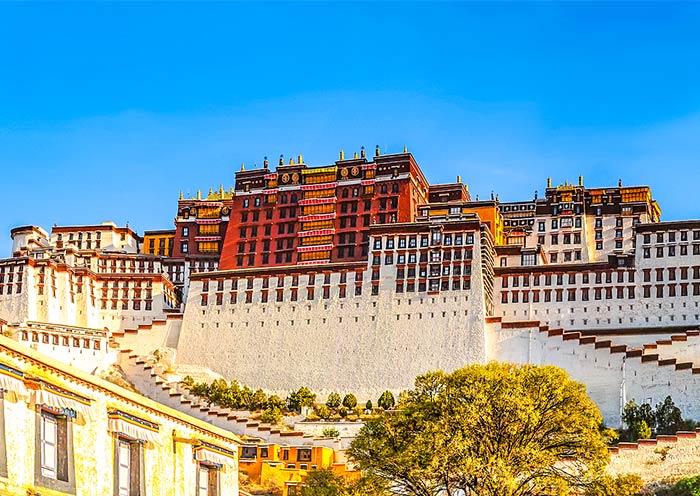 Lhasa Potala Palace Grand Architecture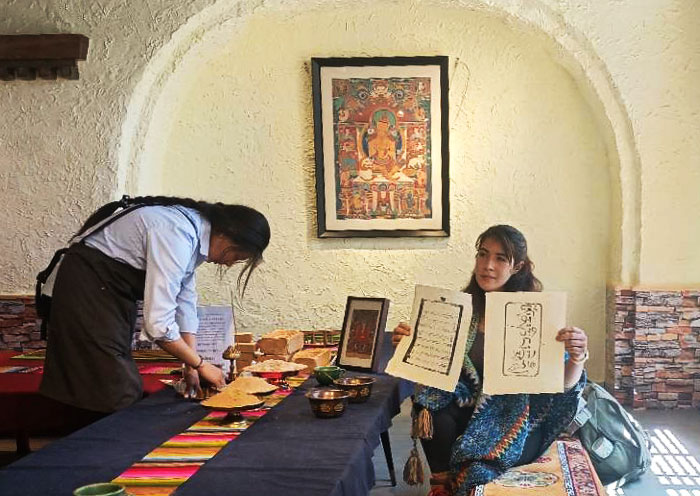 Tibetan calligraphy Experience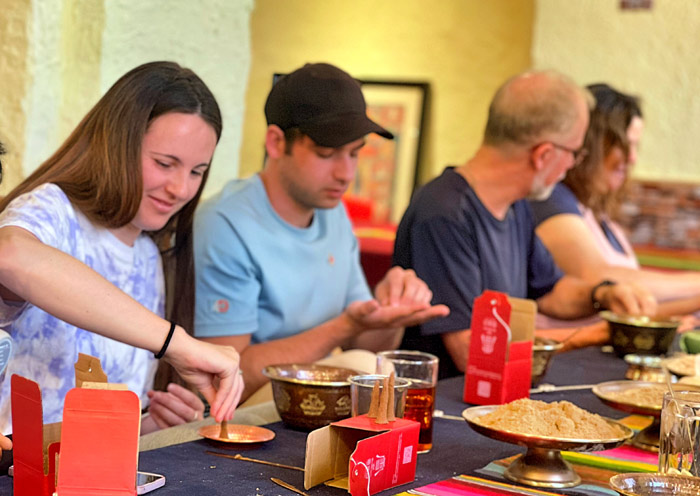 Making Tibetan Incense in Group
Attractions
2 iconic sites
Accommodation
standard hotel in downtown Lhasa
Day 4 Lhasa - Gyantse - Shigatse | Yamdrok Lake, Karola Glacier
Altitude: 3850m | Distance: 380km,about 7 hours' drive
Altitude: 3850m | Distance: 380km,about 7 hours' drive
On this day, drive about 8 to 9 hours (340km) from Lhasa to Shigatse, with a visit to two amazing natural landscapes - Yamdrok Lake and Karola Glacier - on the way.
In the morning, after about 3 to 4 hours of driving (200km), make sure to have your camera ready. When you reach Kampala Pass (4,797 meters), you'll have a breathtaking view of Yamdrok Lake, a freshwater lake down below, as well as spectacular views of the holy Mt. Nyenchen Khangsar in the distance. It is one of the four largest sacred lakes in Tibet, along with Lhamo Latso Lake, Manasarovar Lake, and Namtso Lake. Yamdrok Lake offers stunning views of the Tibetan plateau and is said to be able to help Tibetans find the reincarnated soul of the Dalai Lama. Moreover, you may see dressed-up Tibetan mastiffs, dogs, goats, and yaks there. It is optional for you to pay 5-10 yuan to pose with and take photos of them; for local Tibetans, it's a way to earn extra income for their families.
In the afternoon, drive about 1.5 hours (70km) to visit one of the most beautiful glaciers in Tibet - Karola Glacier, the filming location of the movie "Red Valley" (Hong He Gu). As one of Tibet's three major continental glaciers, backed by the southern slope of Naiqin Kangsang Peak (7,191 meters), one of the four highest peaks in Tibet, this white glacier is also the source of the eastern part of the Nianchu River. The Karola Glacier (5,012m) is only 300 meters away from the highway connecting Lhasa to Gyantse town, and you can view it right from your vehicle. You can also easily walk to the foot of the charming glacier, which has a shape like a frozen waterfall right above the road and you. Besides the fantastic hike to the Karola Glacier, on the opposite side of the road, you can appreciate the beautiful snow-capped mountain of Mt Kalurong.
After that, drive about 3.5 hours (170km) to your hotel in Shigatse, the nearest town on the Friendship Highway between Tibet and Nepal. Have a good rest and get ready for a once-in-a-lifetime trip to EBC the next day.
Travel Tips:
1. Except Tibet Travel Permit, Aliens' Travel Permit for those who will visit Mt. Everest will be processed in Shigatse. The tour guide will arrange itinerary considering the process of permits. You shall obey tour guide arrangements.
2. Please note the Aliens' Travel Permit processing time might be longer than as usual because of peak season or system failure occurs.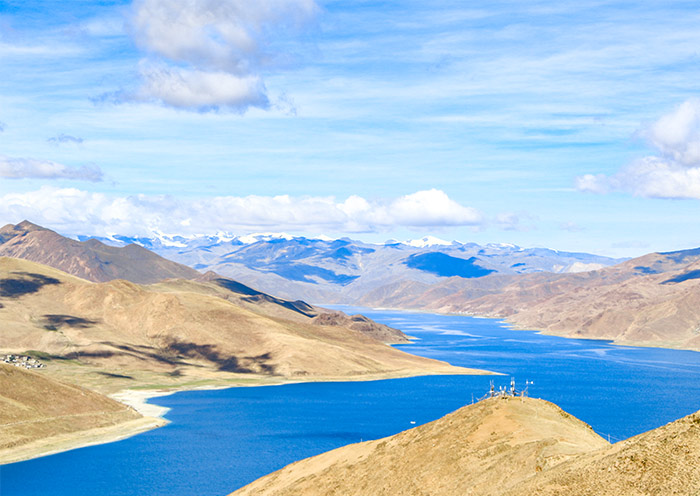 Yamdrok Lake Emerald Lake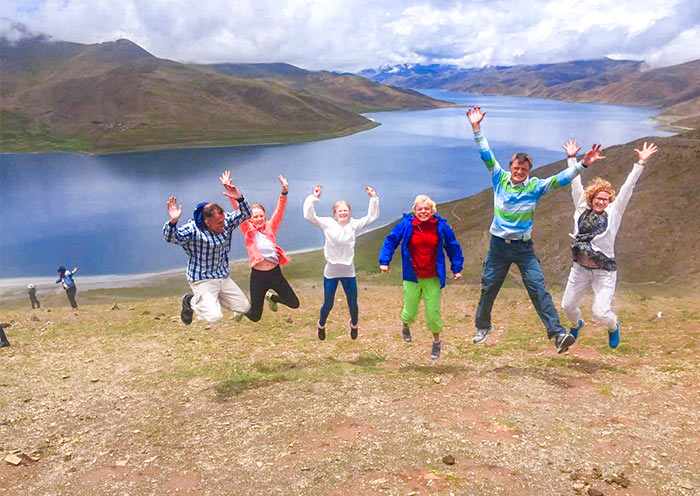 A Large Group of Our Guests Visited Yamdrok Lake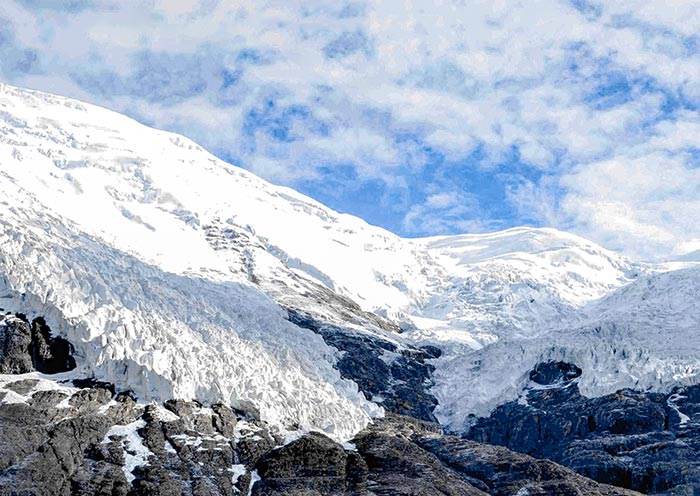 Amazing Glacier at Karora
A Large Group of Our Guests Visited Karora Glacier
Attractions
2 iconic sites
Accommodation
standard hotel in Shigatse
Day 5 Shigatse - Mt. Everest | Gyawu La Pass, Rongbuk Monastery, Mt. Everest Base Camp
Altitude: 5100m | Distance: 340km,about 7 hours' drive
Altitude: 5100m | Distance: 340km,about 7 hours' drive
After breakfast, drive about 6.5-7 hours (330km) to the peak of the world - Mount Everest, while stopping by the Rongbuk Monastery - the world's highest altitude monastery, before spending the night at the Everest Base Camp (EBC).
Departing from Shigatse, after about 4.5 hours of driving (240km), you'll get your first glimpse of Mt. Everest from the Gyawu La Pass (5,200m, Gyatso La Pass), between Lhatse and Shelkar. In addition to Mt. Everest, you'll be amazed by the winding road that seems to go on forever. Along the way, you may see local people biking or hiking all the way to Everest Base Camp. For them reaching the base of the world's highest mountain is a must-do goal or holy belief that is worth the effort.
After enjoying the beautiful and unique scenery on the pass, including incredibly snow-capped mountain ranges, blue skies, floating high clouds, and endless grasslands, it is time to head to Rongbuk Monastery (about 3.5 hours,122km) for the first good view of Mt. Everest. At an altitude of 5,154m, Rongbuk Monastery is the world's highest monastery, a must-visit for spiritual travelers, and is also photo-worthy. It used to be an area of meditation huts, and you can find hermitage meditation caves with a history of over 400 years, dotting the cliff walls all around the monastery and the valley. Along with brilliant Mt. Everest views, at Rongbuk Monastery, you will be touched by the breathtaking scenery, such as large white chortens, piles of mani stones, colorful prayer flags, devout pilgrims passing by.
Notes:
1. Travelers can only go as far as the Rongbuk Temple area rather than a few kilometers farther as before. But it's not a big difference in terms of viewing Mt. Everest.
2. Today the accommodation is poor, the altitude is high, and the temperature is low. Please pay attention to keep warm and prevent altitude sickness. The temperature is about 0-8 degrees in summer night, so please bring down jackets, or rent one in the Base Camp.
3. EBC Accommodation: The tents or guesthouses are designed to accommodate between 8-15 people and feature multi-bed rooms. However, it is noted that from October to April the following year, Tibetan tents will not be available at Base Camp, and travelers will instead stay in Basongcun or Tashizongcun guesthouses, which also offer multi-bed rooms.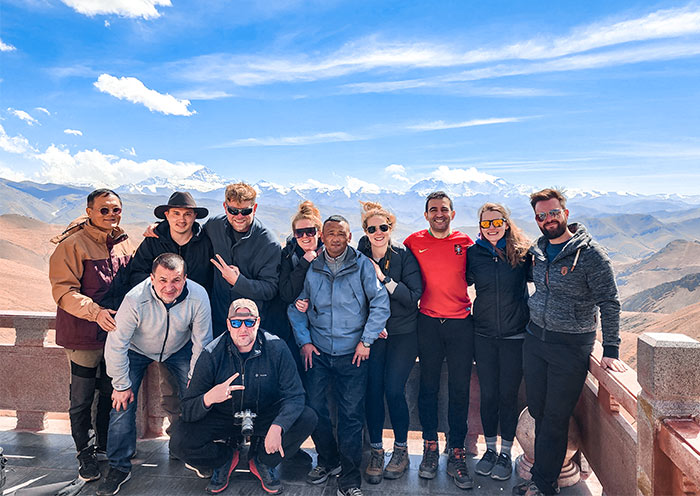 A Group of Our Guests Visited Gyawu La Pass for Amazing Photos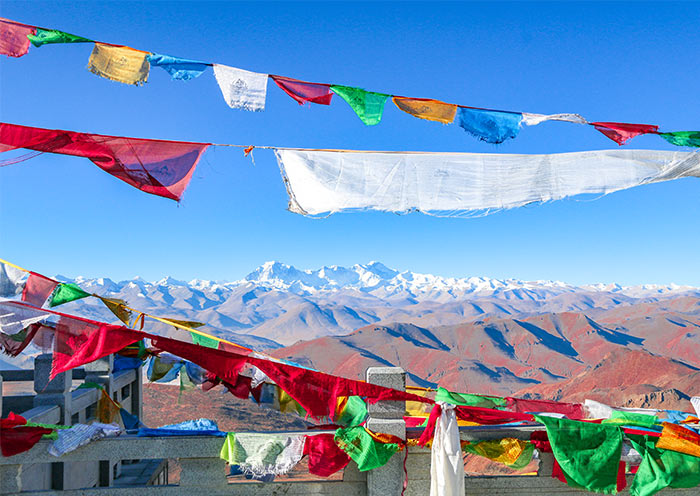 Prayer Flags over Gyawu La Pass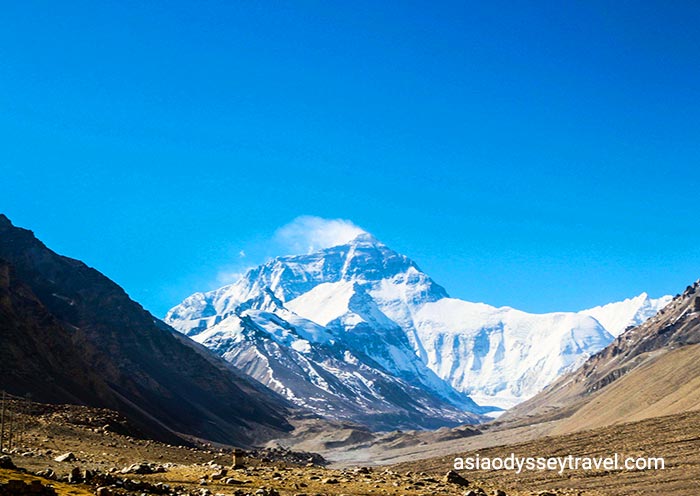 Come to Mount Everest Base Camp to View the Grand Peaks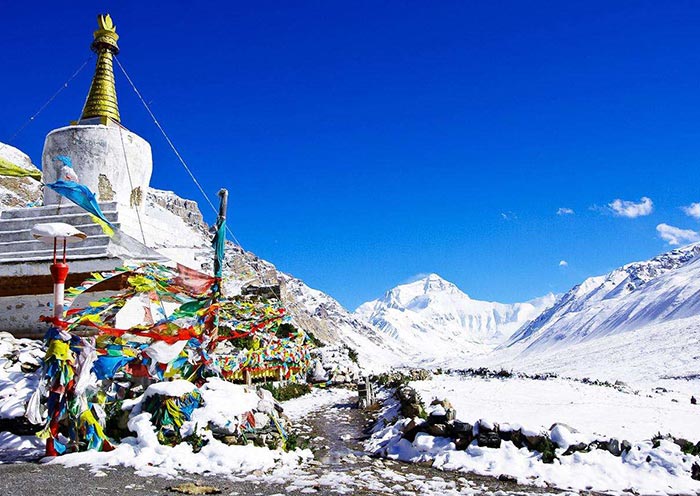 Rongbuk Monastery Located near EBC
Attractions
3 iconic sites
Accommodation
basic hostel in the Everest Base Camp
Day 6 Mount Everest Base Camp - Gyirong Town
Altitude: 3850m | Distance: 380km, about 8 hours' drive
Altitude: 3850m | Distance: 380km, about 8 hours' drive
Watching the sunrise over Mt. Everest is a popular activity, you can choose to wake up early in the morning and hike to a nearby vantage point to witness this breathtaking and unforgettable sight. The sunrise over Mt. Everest is not only a beautiful natural phenomenon but also a symbol of human achievement and perseverance.
After the tour, you and your group will leave Mount Everest Base Camp and be transferred to Gyirong Town, where the Gyirong Port is located, via a part of the Friendship Highway, also known as the China-Nepal Highway. On the way, you will get good chance to see the majestic and awe-inspiring Mount Shishapangma, about 120km from Mount Everest and located in the Himalayas near the Nepal-Tibet border. At an elevation of 8,027 meters, Mount Shishapangma is the 14th highest mountain in the world and the only 8,000-meter peak that lies entirely within Tibet. The mountain is known for its striking appearance, with its towering peaks and massive glaciers.
Stay overnight in Gyirong Town.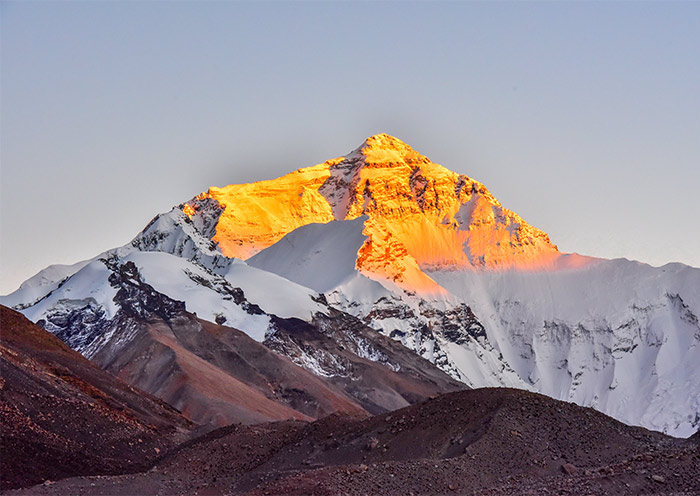 Mount Everest "Sunshine on Golden Mountain"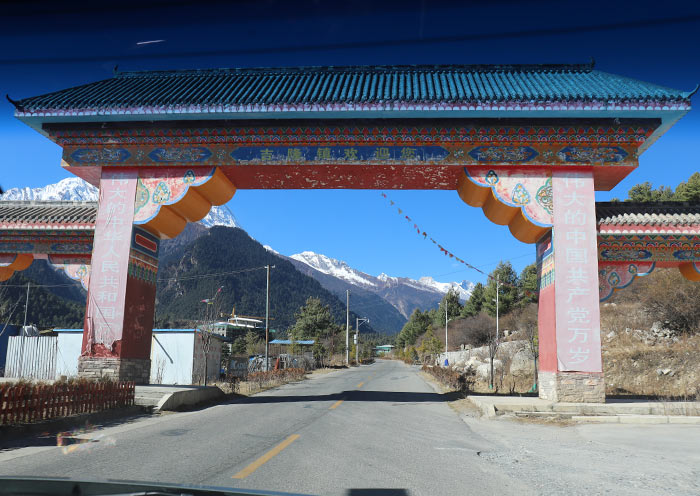 Gyirong Border Town, Tibet
Accommodation
hotel in Gyirong Town
Day 7 Gyirong Town - Gyirong Border - Kathmandu
Altitude: 4200m
Altitude: 4200m
Today, you and your group will be smoothly transferred from Gyirong Town to Gyirong Border, and your guide will assist you cross the border to exit China.
Travel Note:
Currently, the Zhangmu Port is primarily used for freight, while Gyirong Port is used for tourism. The Friendship Highway is an 800-kilometre scenic route that connects Lhasa, the capital of Tibet, to the Chinese/Nepalese border at the Sino-Nepal Friendship Bridge between Zhangmu and Kodari.
It is time to end your 7-day Lhasa Shigatse EBC Kathmandu Overland Group tour. Thank you for choosing Asia Odyssey Travel for your Tibet tour, and we are always here working for you and hope to see you again for your next trip to China/Asia. Safe journey!
Attractions
hotel check-out and transfers
Choose Your Travel Date and Get Free Enquiry
Month
Available Date
Price
Book The Tour
Sep.
Sep.29, 2023
from $1230
Free Enquiry
Oct.
Oct.19, 2023
from $1092
Free Enquiry
Nov.
Nov.18, 2023
from $1092
Free Enquiry
Dec.
Dec.18, 2023
from $1092
Free Enquiry
Jan
Jan.18, 2024
from $1092
Free Enquiry
Feb
Feb.9, 2024
from $1122
Free Enquiry
Apr
Apr.1, 2024
from $1122
Free Enquiry
Apr.20, 2024
from $1092
Free Enquiry
May
May.10, 2024
from $1092
Free Enquiry
May.27, 2024
from $1092
Free Enquiry
Jun
Jun.10, 2024
from $1199
Free Enquiry
Jun.24, 2024
from $1169
Free Enquiry
Jul
Jul.8, 2024
from $1230
Free Enquiry
Jul.22, 2024
from $1230
Free Enquiry
Aug
Aug.8, 2024
from $1230
Free Enquiry
Aug.22, 2024
from $1230
Free Enquiry
Sep
Sep.8, 2024
from $1169
Free Enquiry
Sep.22, 2024
from $1169
Free Enquiry
Oct
Oct.19, 2024
from $1092
Free Enquiry
Nov
Nov.8, 2024
from $1092
Free Enquiry
Dec
Dec.18, 2024
from $1092
Free Enquiry
Price: What's Included & What's Excluded
The above price is based on a group tour for 2 people sharing one standard double-bed room in 3-star hotels.
Price varies depending on travel date, group size, hotel class, program in your itinerary and possible fluctuation of currency exchange rate.
What's Included:

Professional licensed English-speaking local guide

Tourist Vehicle: 7-23seats (If it's less than 4 travelers doing Lhasa city tour, we will let tour guide to take a taxi instead. Taxi fee will be at the tour guide expense.)

Hotel accommodation with breakfasts (3-star standard)

Meals: Breakfasts plus featured meals - Tibetan welcome banquet in Lhasa & The world's highest altitude hot pot experience at EBC (if you take the tour to EBC).

Admission tickets, activities listed in the itinerary

Tibet Permits: Tibet Entry Permit, Alien Travel Permit, Border Pass, etc.

Pick up and Drop off Service: The pick up and drop off service are free from 7:00am to 22:00pm on the pick up and drop off date.

Oxygen and Water: A container of Oxygen per person for emergency use; 2 bottles of drinking water per person per day (300ml); 4L Medical oxygen cylinder with car

Our service from tour planning, handling, operational and finishing your trip
What's Excluded:

International airfares

Entry Visa fees

Personal expenses

Single Room Supplement

Recommended optional activities

Arrival/departure flights or train on the first and last day

Tips or gratuities for guides and drivers
Hotel Selections for Tibet Group Tour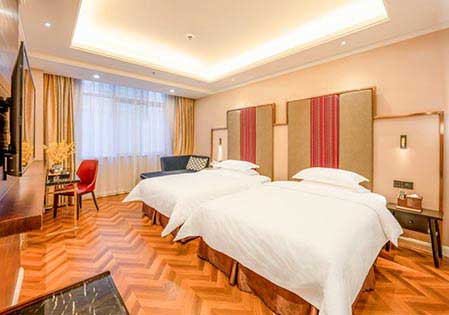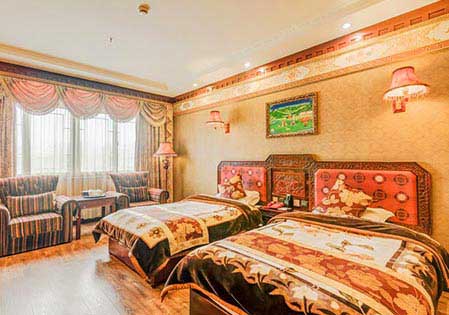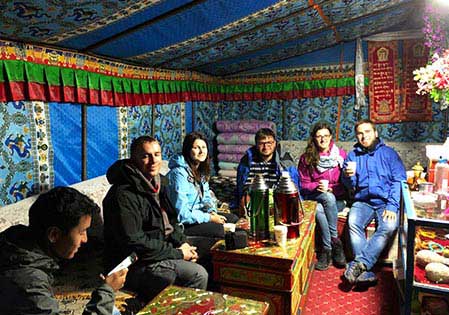 In a Tibet group tour, there are two main types of accommodation choices on a Tibet group tour: basic standard and comfortable. In major cities like Lhasa, there are a variety of accommodation options available, ranging from 3 star to 4 star hotels. In more remote areas, such as near Mount Everest or Mount Kailash, the accommodations may be more basic, with simple guesthouses or tented camps. We will email you the detailed hotel arrangement after your booking.
If there is a single room due to gender reasons, we will arrange a triple room (or double standard room with and extra bed) or pay the single room supplement by the yourself.
Important Trip Notes for Booking a Tibet Group Tour
Do I need to get a Tibet permit to visit Tibet? How long does it take to obtain?
All foreign travelers are
required to obtain a Tibet Travel Permit
to visit Tibet. The permit can only be applied for through a registered travel agency in Tibet (we are local based Tibet travel agency with office setting in Lhasa) and is required to purchase flight or train tickets to Tibet. The permit is necessary to enter Tibet and visit certain areas within the region, including Lhasa and Mount Everest Base Camp. Travelers should plan ahead and allow sufficient time for the permit application process, as it can take one to two weeks to obtain the necessary permits.
All foreign travelers are advised to make their bookings at least one week in advance and send the necessary documents to us for obtaining the permits. However, if you plan to visit Mount Kailash, it is recommended to book at least two weeks in advance, as it may take longer to obtain the necessary permits.
How Many Tourists Travel in a Small Group Tour? Where Are They From?
Typically, small group tours in Tibet will have
6-12 travelers
, and you will have the opportunity to meet and travel with tourists from different parts of the world. This can be a great chance to make new friends and connect with people from different cultures and backgrounds.
Can I have my own group tour?
Yes, if you are traveling with a group of friends or with your family, you can customize your own group tour. Please
contact your professional travel consultant
to discuss and arrange a customized group tour that meets your needs and preferences.
Meals
"B" stands for breakfast. You will have it at your hotel in the morning.
"L" stands for lunch. The restaurants we will arrange for you are all designated tourist restaurants approved by local tourist administration bureau. All are in good sanitary conditions. Lunches are usually included if you have a full day tour in one destination. Your guide will assist you with ordering the dishes. If you will travel from one city to another, lunches are excluded and you can ask the guide for some suggestions about where and what to eat.
"D" means dinner. All dinners are excluded in the itinerary. You have the chance to taste some authentic Chinese food and local snacks.
If you have special dietary requirements (vegetarian, halal, kosher, Indian, or gluten-free), please let us know before your booking. We will try our best to take care of you.
Cancellation Policy
2 weeks before the departure: free cancellation;
1 week before the departure: 10% of the tour fare is charged;
Within a week before the departure: 15% of the tour fare is charged;
Cancel during the tour: You'll get the refund of the tickets and accommodation fee that you don't consume.
Other Recommended Tibet Group Tours