Tibetan Cultural Encounter
Many people are drawn to Tibet for its spiritual nature, which includes magnificent monasteries, prayer halls with chanting monks, and isolated cliffside retreats. The religious devotion of Tibetans is humbling, whether you're spinning prayer wheels with a Tibetan granny or marveling at a pilgrim's prostrations around Mt. Kailash. These encounters allow you to see Tibet through the eyes of the Tibetan people and appreciate their deep spiritual connection to their land.
Traveling to Tibet to Witness the Highest Palace
Visiting the Potala Palace to learn about its rich history and spiritual significance. The palace is an important part of Tibetan culture and is a must-see attraction for visitors to Tibet. The palace is sure to leave a lasting impression and offer a unique cultural encounter.
The Potala Palace, situated in the heart of Lhasa, is the highest palace in the world, built by Tibetan hands and wisdom, which is a towering fortress that rises over 13 stories high, with over 1,000 rooms and 10,000 shrines and statues. The palace is divided into two main sections, the Red Palace and the White Palace, each with its own unique features and attractions
The palace was once the home of the Dalai Lama and is a symbol of Tibetan Buddhism. Around this pearl on the roof of the world, you'll see wizened old pilgrims twirling prayer wheels, rubbing sacred rocks, and walking around temples, and monasteries.

Potala Palace

People come to Potala Palace for Pilgrimage
Traveling to Tibet to Explore the Tibetan Buddhist Monasteries
It is no exaggeration to say that Lhasa has "one temple for every hundred steps". There are approximately 1700 Tibetan monasteries and temples across Tibet and most of them are built on the lofty mountaintop or in surrounding mountains. Touring Tibetan monasteries and temples is one of the most effective ways to learn Tibetan Buddhism and its spiritual nature.
The most prestigious Tibetan monasteries and temples in Tibet are known as Jokhang Temple, Sera and Drepung Monastery, Ganden Monastery, Tashilhunpo Monastery, etc.
Joining the lines of awed pilgrims around the glowing shrines of the Jokhang Temple, the beating spiritual heart of Tibet.
Taking in a prayer meeting or watching monk-debating in Sera or Drepung Monastery, Tibet's great monastic cities.
Taking a trip to the stunning view of Ganden Monastery, set in a natural bowl high above the braided Kyi-chu Valley.
Witnessing the stunning gold-topped stupa, which stands over 26 meters tall Tashilhunpo Monastery .
Or paying a visit to off-the-beaten-track temples. Beyond Lhasa's famous monastic cities, there are hundreds of smaller, lesser-visited places, each holding its treasures and with more local pilgrims.

Tashilhunpo Monastery

Monk-debating in Sera Monastery
Traveling to Tibet to Observe Kora Paths & Pilgrims
Tibet is a uniquely spiritual place, surprising everything for me is the Tibetans, their devotion and dedication and belief remain deep. All over Tibet, you'll see Tibetan twirling prayer wheels, rubbing sacred rocks and walking around temples, monasteries and sometimes even entire mountains.
Tibet's Koras (pilgrim routes) are the keys to its souls. From a few hour's paths walk around a holy inner sanctum to month-long treks around a holy peak, koras are the ultimate fusion of mind and body. There are few better ways of joining a merry band of pilgrims on kora to understand Tibetans or just simply observe from a respectful distance.
Kailash Kora: one of the most sacred and challenging pilgrimage routes in Tibet. Mount Kailash is a holy mountain that is considered to be the center of the universe in Tibetan Buddhism. The entire kora is about 52 kilometers long.
Jokhang Temple Kora: one of the popular pilgrimage routes. The kora around the Jokhang temple involves walking through the bustling Barkhor market and circling the temple in a clockwise direction.
Ganden Monastery Kora: Choose between the high kora with awesome views or the lower route lined with sacred rocks and shrines.
Tashilhunpo kora: A fine hike that connects Shigatse main monastery, old town and the restored fort, revealing the town' s best views.

Pilgrims around the glowing shrines of the Jokhang Temple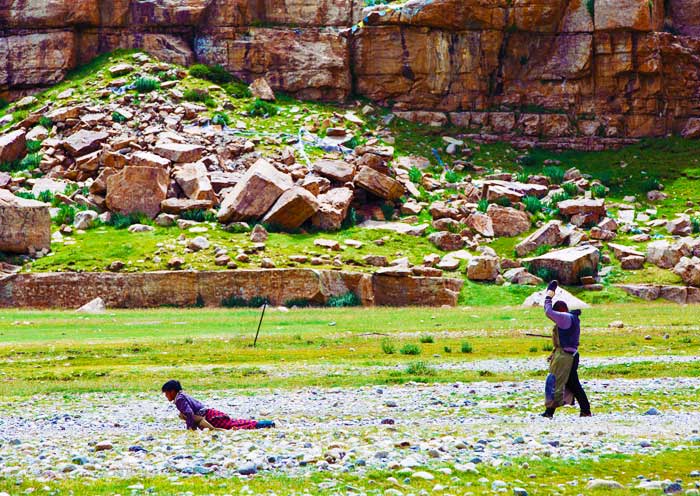 Kailash kora
Traveling to Tibet to Attend Tibet Festivals
Attending a festival in Tibet is a unique and unforgettable experience that offers a glimpse into the Tibet's rich culture and traditions. It is a chance to witness traditional dances, enjoy delicious food, and connect with the Tibetan local.
Losar (New Year Festival)
In the first week of the first lunar month, Losar is a time of great joy and celebration, with Tibetans coming together to welcome the new year and bid farewell to the old. During the festival, Tibetans decorate their homes with colorful prayer flags and perform traditional dances and Tibetan opera.
Saga Dawa (Sakyamuni's Enlightenment)
In the full moon (15th day) of the fourth lunar month, Saga Dawa commemorates the Buddha's birth, enlightenment, and death. Huge numbers of pilgrims walk Lhasa's Lingkhor circuit and visit Mt Kailash, where the Tarboche prayer pole is raised each year.
Shoton Festival (Yoghurt Festival)
In the first week of the seventh lunar month, Shoton Festival starts with the dramatic unveiling of a giant thangka at Drepung Monastery before moving to Sera and then down to the Norbulingka for performances of lhamo.

Barkhor Street

The giant Buddha Thangka paintings displaying in Drepung Monastery
Traveling to Tibet to Experience Local Activities
Simple daily pleasures abound in Tibet. The joy and devotion remain deeply in Tibetans' inner hearts, whether it's a Tibetan granny or a monk in the monastery. It's hard to find a minority nationality anywhere in the world where people are so focused on peace of mind. The following activities help you see Tibet through Tibetan eyes. This is the best experience in Tibet.
Kick back with a thermos of yak-butter tea at Tibetan tea houses while observing local life and immersing yourself in the local culture and traditions.
Visit a local Tibetan house to understand the authentic rural life of Tibetan people and listen to Tibetans tell their stories.
Paint your own Thangka. Learn how to paint a thangka and take the good luck and energy from Tibet back home with you.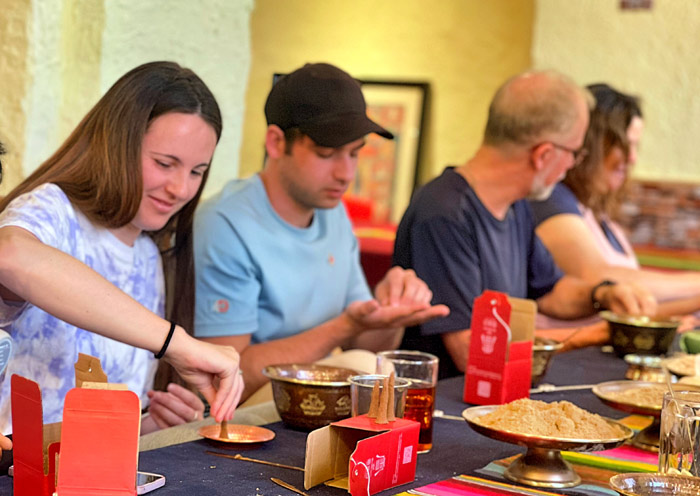 Handmade Tibetan incense

Yak-butter tea
"Tibet has never been a place called paradise, but it seems like a special existence close to an alien planet; otherwise, there is no other way to explain why the scenery here is so different from other places."
Tibet is located on the Tibetan Plateau, which is known as the "Roof of the World." The average elevation of Tibet is over 4,000 meters (13,000 feet) above sea level, which creates a unique and dramatic landscape of snow-capped mountains, crystal-clear glaciers, and gigantic lakes. All of Tibet is blessed with amazing high-altitude colors.