11 Days China Scenic & Cultural Tour in Group (Shanghai Zhangjiajie Xian Beijing)
Recommended Rating: 5 Star
Tour Code: AOT-GT-012

Travel Route: Shanghai - Zhangjiajie - Xian - Beijing

Features: World Heritages, Architectures, Avatar Mountains, Glass Bridge, Skyscrapers

Tour Type: Small group of maximum 12 travelers, guaranteed departures

Guide & Driver: English-speaking guide, experienced driver with an air-conditioned vehicle

Accommodation: 10 nights at good 3-star hotels
Lowest Price Guarantee & Free Cancellation.
Reserve Now and Pay Later.
Itinerary
Dates & Price
Accommodation
Trip Notes
Reviews
China is a magical country filled with time-honored brilliant civilizations, astounding man-made attractions, amazing skylines, remarkable natural wonders, as well as countless hidden gems waiting to be discovered.
How about capturing the awe-inspiring scenic and cultural sides of China in just one go? Then, this 11 days Shanghai Zhangjiajie Xian Beijing tour will show you both nature and culture in the best four destinations of China. Visit the golden triangle cities to witness the past, present and future of China, throw yourself into the unbelievable Avatar World in Zhangjiajie with towering peaks, breathtaking rock pillars and deep valleys, and hold your breath to experience the longest and highest glass bridge in the world - Zhangjiajie Grand Canyon Glass Bridge suspended between two peaks about 300 meters high. In a small group tour, you are guaranteed with "AMAZING EXPERIENCE" at the best lowest price in 2023!
Take This Group Tour and You'll Experience:
Lowest Price Guarantee
Explore the scenic and cultural China with Asia Odyssey Travel at the lowest price. It can save up to 30% compared to a private tour.
No Shopping in Any Destinations
Go with Asia Odyssey Travel's well-designed small group tour, and you're guaranteed with "100% No Shopping Stops".
Unforgettable Travel Experience
Travel with likeminded 2-12 travelers in the stunning destinations on our small group tour. You'll get in-depth and intimate experience as a private tour.
Comfortable Pace for Classic Exploration
With ease and comfort, from big wows to hidden gems, our small group tour leaves you feeling that you've really explored. You won't miss any highlights of China.
Itinerary Day by Day
Day 1 Arrival in Shanghai | Airport Pick-up and Hotel Check-in
Arrive at Shanghai airport, airport pick-up, transfer to your hotel and check-in.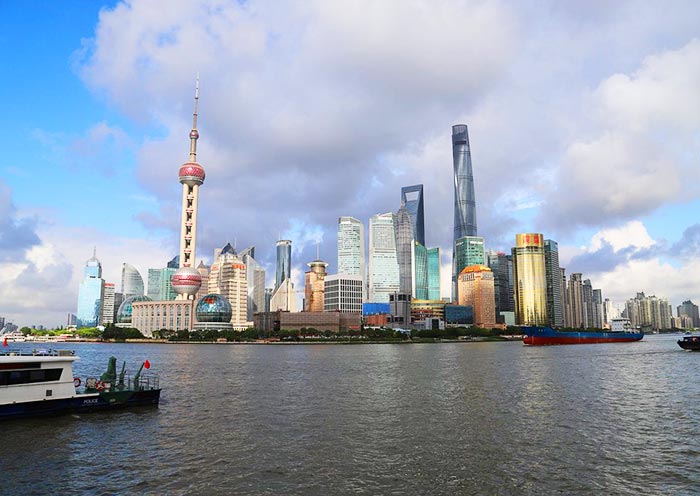 Nihao! Welcome to Shanghai, China's most internationalized and vibrant city! Shanghai's long-term fusion of Eastern and Western cultures has contributed to Shanghai's unique culture. Upon your arrival at the airport/train station in Shanghai, the tour guide and driver will meet and greet you at the exit, and then escort you to the well-selected hotel in downtown Shanghai. The rest of the day is free on your own so you can have a good rest for the jet lag or explore by yourself around your hotel.
Arrival Ideas:
Travelers can go to Shanghai easily by air or high speed train. There are two airports - Shanghai Pudong International Airport and Shanghai Hongqiao International Airport operating numerous international and domestic airlines. Travelers can go to Shanghai by air from most cities in China, like Beijing, Xian, Guangzhou, Chengdu, Guilin, Kunming, Lijiang, Lhasa, and more. In addition, travelers can take high speed train to Shanghai from Beijing (4.5-6 hours), Xian (6-7.5 hours), Huangshan (2.5-3 hours), Guangzhou (7-8.5 hours), Suzhou (0.5 hour), Hangzhou (about 45 mins), Wuhan (3.5-4.5 hours), etc.
Free Time Ideas:
You are welcome to ask your tour guide for some useful tips to spend your free time based on your time and interest.
Attractions
Explore freely today
Transportation
Arrive in Shanghai by yourself
Accommodation
3-star hotel in downtown Shanghai
Day 2 Shanghai City Tour | Shanghai Tower, Yu Garden, Nanjing Road & The Bund
Discover ancient and modern Shanghai through its Shanghai Museum, Yu Garden, Nanjing Road, The Bund and Shanghai Tower. (B+L)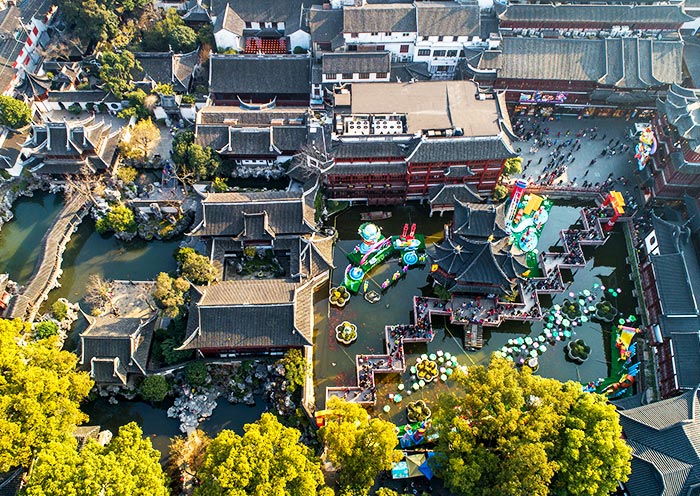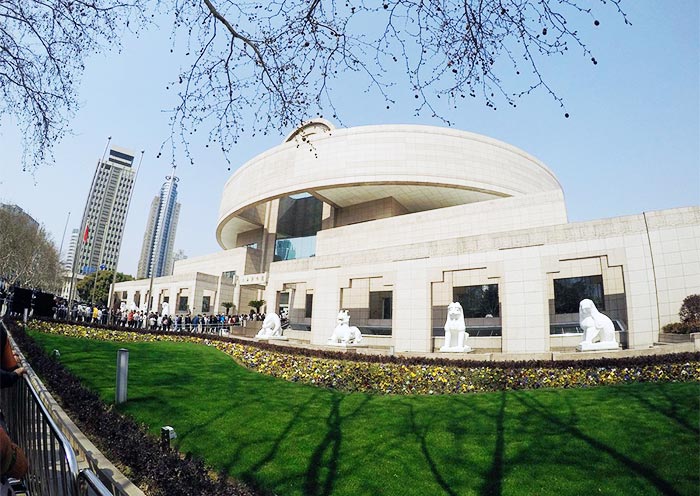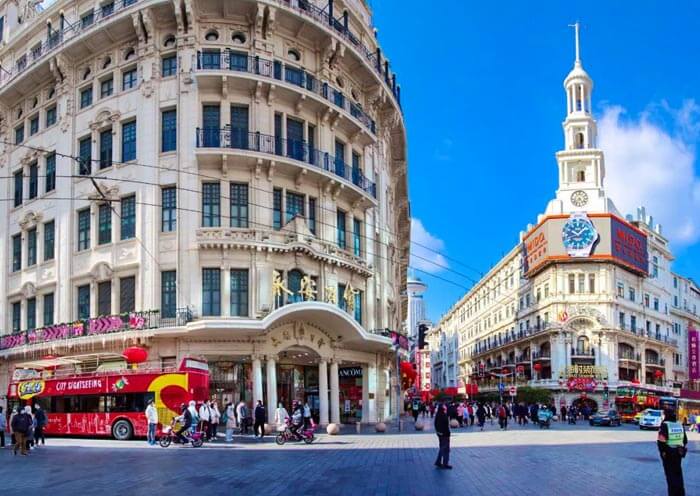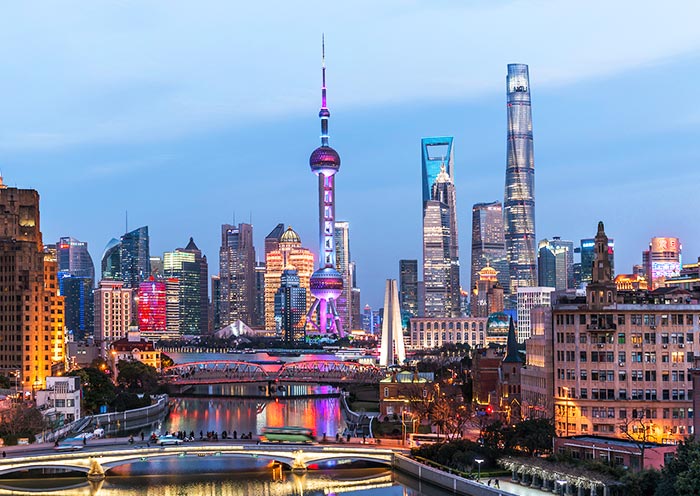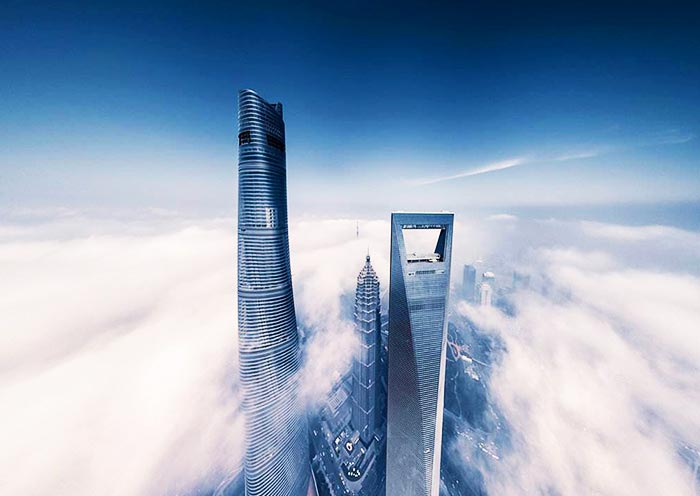 Today you will spend the whole day experiencing the perfect blend of West and East in this "Paris of the East." Visit brilliant museums, traditional Chinese gardens, modern skyscrapers, and exotic architecture.
First, head to the Pudong Area. One eye-catching feature is the trio of towering skyscrapers in the Lujiazui financial district. Shanghai Tower is the tallest building in China and second tallest in the world at 632 meters (2,073 feet). Here, you will ascend the highest building in Shanghai - the Shanghai Tower - featuring a dramatic 120-degree twist from base to peak. Ride the world's fastest elevators, traveling at 64 km/h, up to the "Top of Shanghai Observatory" on the 118th floor, 546 meters (about 1,791 feet) above ground. Enjoy unparalleled 360-degree panoramic views over the city and look down on the Jin Mao Tower and Shanghai World Financial Center.
Later, visit the Shanghai Museum for an awe-inspiring tour of the finest art collection and profound Chinese history. Built shaped like an ancient bronze ding vessel, the museum has a round top and square base, symbolizing "round sky, square earth." It contains 120,000 cultural relics showcasing incredible Chinese art spanning 5,000 years. Immerse yourself in the Bronze and Ceramics Exhibition Hall, appreciating the elaborate bronzes and exquisite artifacts. Don't miss top treasures like the Da Ke Ding bronze vessel from over 3,000 years ago and the Bianzhong of Marquis Su of Jin, ancient musical instruments.
Next, head to Yu Garden, the most celebrated classical Chinese garden hidden in bustling downtown Shanghai. Enjoy a leisurely stroll to see the Chinese architecture and exquisite sculptures and carvings. Outside, Yuyuan Bazaar is a fun place to taste local snacks and shop for traditional crafts and art.
In the afternoon, stroll down Nanjing Road Pedestrian Street, lined with famous brands, restaurants, cafes, souvenir shops, and towering buildings. Continue to the Bund, the top must-see spot in Shanghai. Known as the "Exhibition of International Architecture," the Bund features 52 buildings in various styles. Overlook the amazing Pudong skyline and skyscrapers from here.
(Travel Note: Shanghai Museum and Yu Garden are closed Mondays. Those days you'll instead visit the Shanghai Urban Planning Exhibition Center, Shanghai City God Temple, or the French Concession.)
Attractions
5 iconic sites
Accommodation
3-star hotel in downtown Shanghai
Day 3 Shanghai to Zhangjiajie by Flight
Get to Zhangjiajie by flight from Shanghai, airport pick-up, and hotel check-in. (B)
On this day, you will have some free time till your guide meets you in the hotel lobby and escorts you to the airport for your flight to Zhangjiajie (about 2.5 hours).
Welcome to Zhangjiajie, an incredible place where you can see Avatar Hallelujah Mountain in reality! Upon your arrival in Zhangjiajie, the local guide and driver will greet you at the exit of the airport, and then escort you to your hotel in Wulingyuan Area. Enjoy some free time on your own after the hotel check-in.
Attractions
explore freely on your own
Accommodation
3-star hotel in Wulingyuan, Zhangjiajie
Day 4 Zhangjiajie Wulingyuan Tour | Yuanjiajie, Tianzi Mountain, Ten-mile Gallery
Explore in Wulingyuan Scenic Area by visiting Yuanjiajie, Tianzi Mountain and Ten-mile Gallery. (B+L)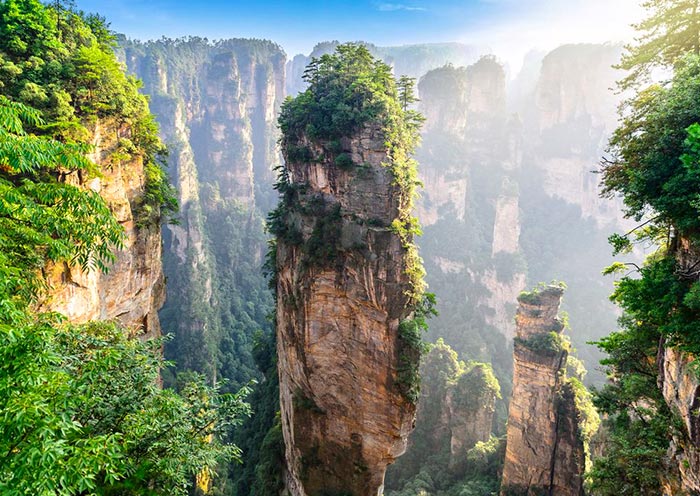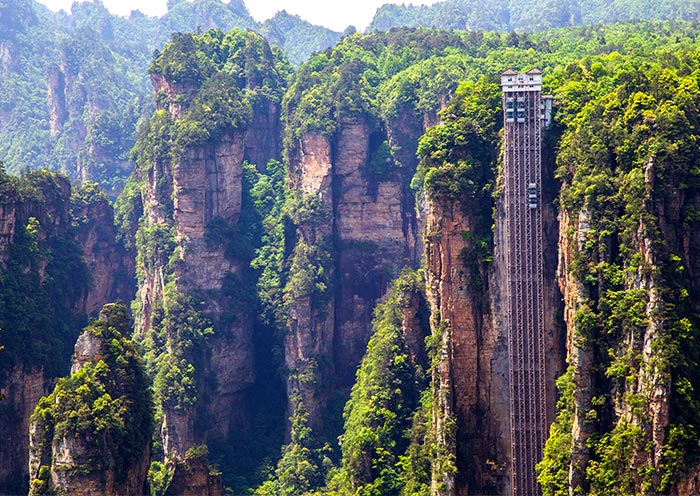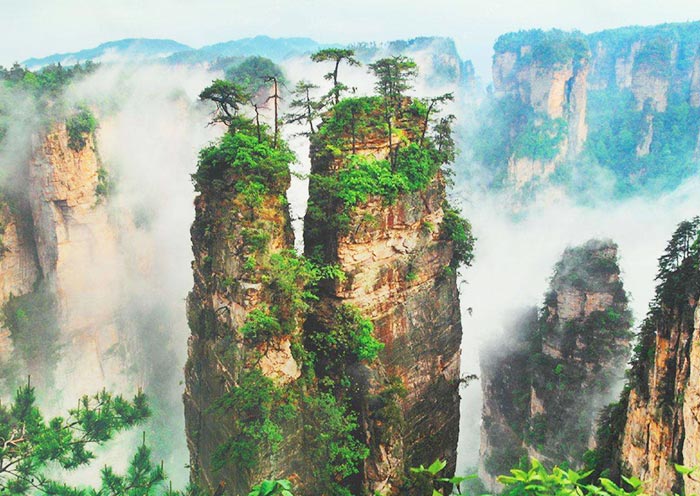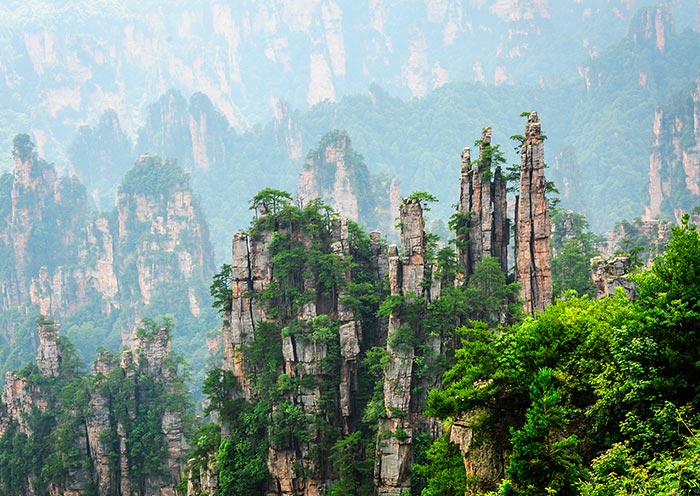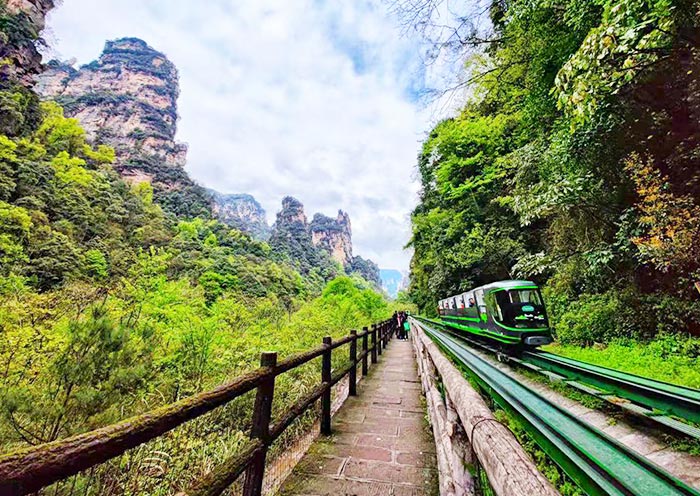 After breakfast, you will have a whole day to explore Wulingyuan Scenic Area, a spectacular island of nature dominated by more than 3,000 narrow quartz sandstone pillars. First, take a sightseeing bus to Bailong Elevator that within 1.5 minutes you can go from the valley bottom up to the pillar peak. It is the fastest and as well as the tallest outdoor elevator in the world. Next, enjoy the hike into a mysterious Pandora World - Yuanjiajie, where is rightly the shooting location of "Hallelujah Mountains" in reality. Catch the chance to shoot South Sky Pillar, the landmark of Yuanjiajie, about 150 meters high vertically rising high from the deep valley, looking like a giant standing so upright under heaven. Go to the Enchanting Platform for a marvel at the unbelievable scenery with hundreds of various peaks like bamboo shoots towering from the grounds. And then enjoy the lush scenery of Natural Bonsai at Backyard Garden.
Next, take the sightseeing bus to the second tourist site - Tianzi Mountain Nature Reserve which was named after the leader of the local Tujia ethnic group - Xiang Dakun in early Ming Dynasty (1368-1644). It is a fairyland in moive Monkey King. Hike to He Long Park which has a fascinating viewing deck to appreciate the incredible and magnificent scene of peculiar stone peaks. Move to Dianjiang Terrace to overlook the West Sea Stone Forest, rugged rock rising out of a misty canyon. The last stop today is the Ten-mile Galley. You will take a small green train to explore the beautiful scenery where you will feel like get through a Chinese ink painting. After the tour, get back to your hotel for a good rest.
Transportation
sightseeing bus
Accommodation
3-star hotel in Wulingyuan
Day 5 Zhangjiajie Tour | Zhangjiajie Grand Canyon Glass Bridge, Baofeng Lake
A full day to explore Tianmen Mountain and extend to Wulingyuan for accommodation. (B+L)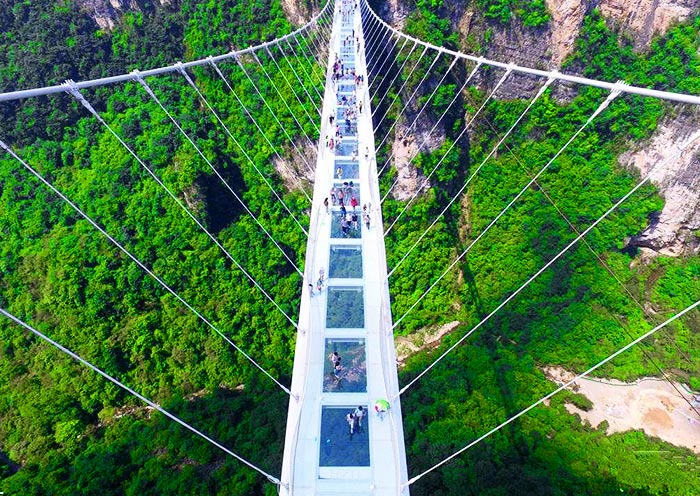 After breakfast, you will be transferred to the Zhangjiajie Grand Canyon for the breathtaking Grand Canyon Glass Bridge experience. The Grand Canyon Glass Bridge wants to say "hello" to you and makes you yell "my god" to give a deeper impression of Zhangjiajie. Suspended between two peaks, the glass bridge is 430 meters long and 300 meters high, which is the longest and highest glass bridge in the world. Standing on the transparent glass is like floating in the air and you can have superb panoramic view of the entire Grand Canyon.
After your "tremble" on the glass bridge, move to the Baofeng Lake to do a scenic cruise to bring you back to peace. Surrounded by green trees and stone peaks of various shapes, Baofeng Lake is an idyllic place for relaxation. When leisurely cruising on the boat, you can see the reflection of the marvelous peaks and enjoy the folk songs performed by the local minority people.
Accommodation
3-star hotel in Wulingyuan, Zhangjiajie
Day 6 Zhangjiajie to Xian by Flight | Tianmen Mountain
Tour Zhangjiajie Grand Canyon Glass Bridge, Baofeng Lake; fly to Xian and transfer to hotel. (B)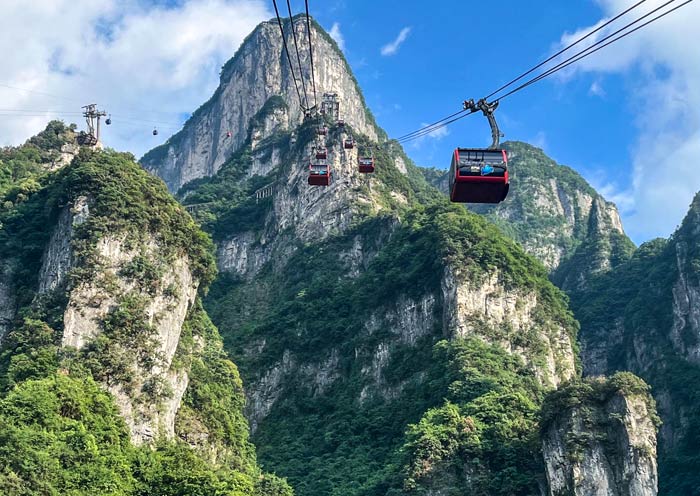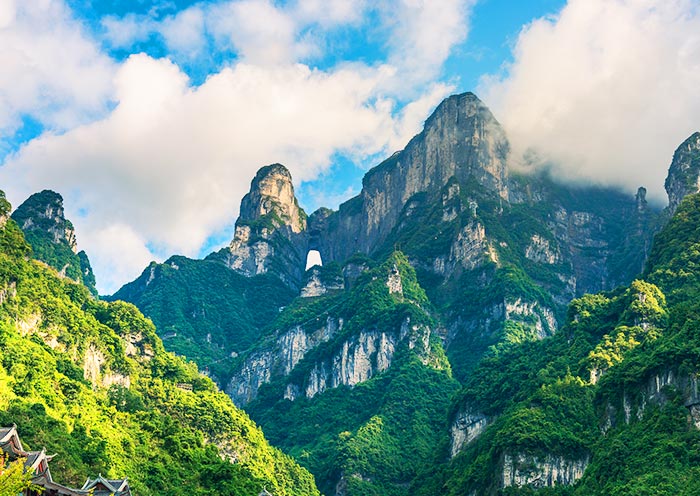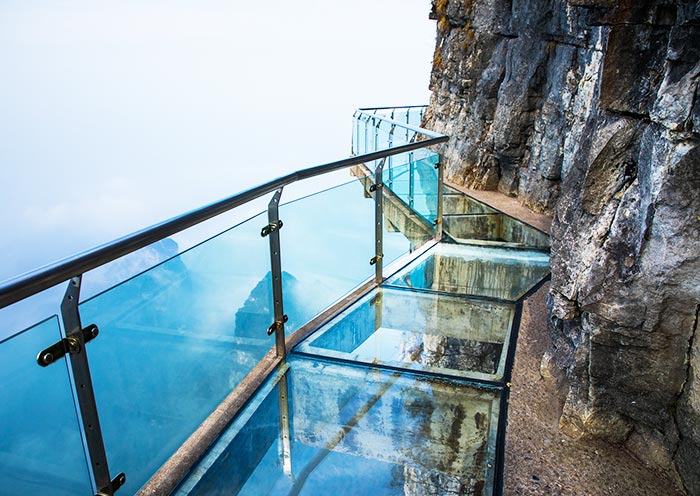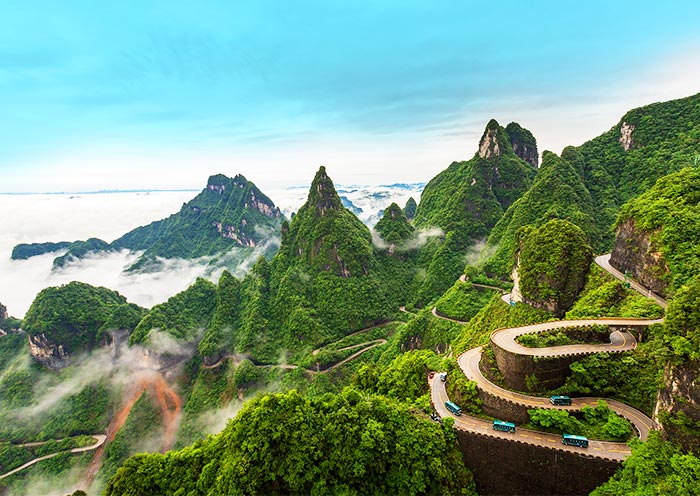 After breakfast, your guide and driver will pick you up at your hotel lobby. Today, you will make a breathtaking visit to Tianmen Mountain, one of the world's most beautiful mountains. You won't miss the chance to experience the world's longest cable car, walk on the glass skywalk, and pay a visit Heaven's Door and view Avenue toward Heaven with 99 turns.
First, go to take the 30-minute cable car with 7,455 meters in length which means you'll travel from the city of Zhangjiajie to the top of Tianmen Mountain. From the cable car you will have a perfect view of Heaven's Door and a shocking look at the wandering Avenue toward Heaven. Next, move to Tianmen Temple where you can enjoy the typical Qing Dynasty styled Buddhist structure with verdant forest surrounding by.
Now, the challenge time is coming. Hold your breath to experience the scary walks on the cliff path hanging on the mountain. Walk on the Glass Skywalk, which is transparent glass 1430 meters above the bottomless valley, giving you a thrilling feeling like walking in the sky. Also, try the 1.6-kilometer-long Cliff-Hanging Walkway, built along the edges of the mountain's summits. Amazing, isn't it? After that, go down by escalator from the peak to Tianmen Cave which is also known as "Heaven's Door". Tianmen Cave is a natural arch between two peaks of a height of 131.5 meters, rising above the ground and closing to the sky with a lofty and towering posture. It is the highest hole of its sort in the world. (Note: Tianmen Mountain is the famous spot for Wingsuit Flying, you might have a chance to witness this unbelievable sport there.) After the memorable time, take the cable car down the mountain. And then, you will be transferred to Wulingyuan area and have accommodation here.
After the tour, it is time to say goodbye to Zhangjiajie. You will be escorted to the airport for your night flight to Xian (about 2 hours). Upon your arrival in Xian, the local guide will meet you at the exit of the airport and escort you to your hotel.
Accommodation
3-star hotel in downtown Xian
Day 7 Xian City Tour | Terracotta Warriors, Ancient Wall, Giant Wild Goose Pagoda
A historic tour in Xian with Terracotta Warriors, Ancient Wall, and Giant Wild Goose Pagoda. (B+L)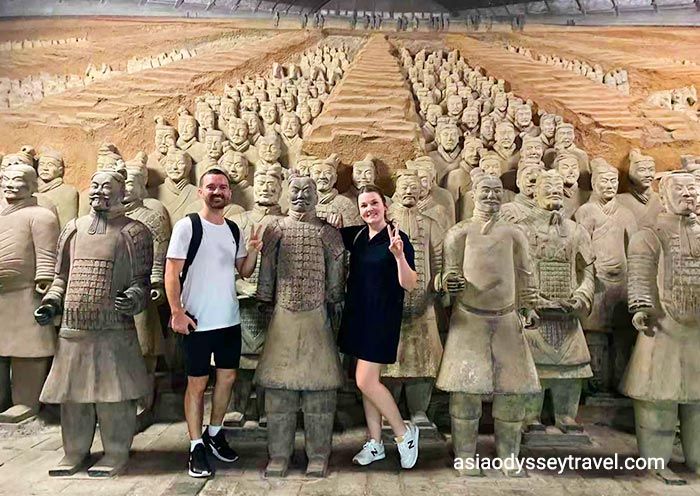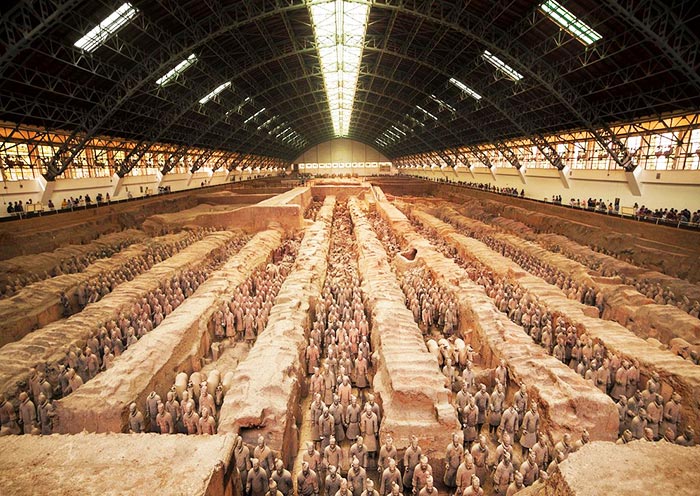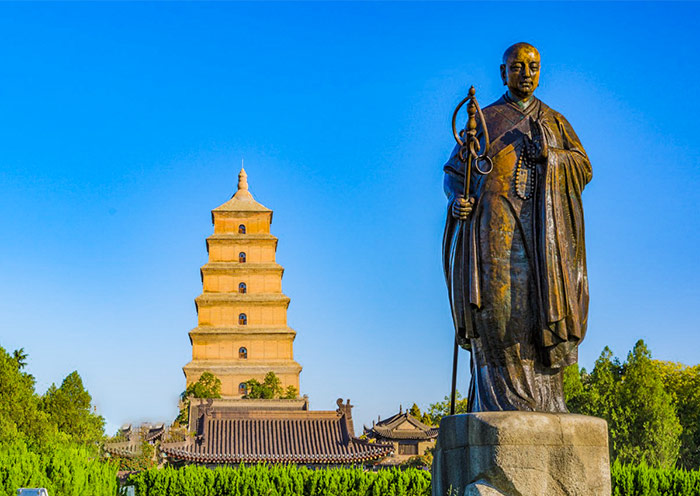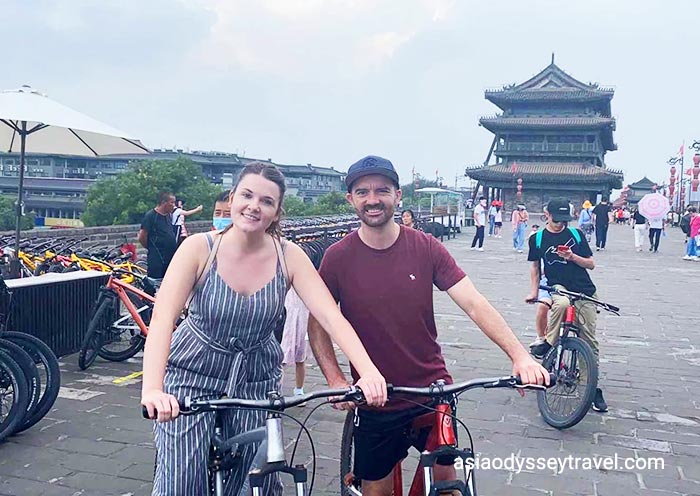 After breakfast, your guide and driver will pick you up at your hotel. Drive about 40km (about 1 hour) to uncover one of the greatest archaeological discoveries in the world - the Terracotta Army Museum, built by the first emperor of China, Qin Shihuang, to protect him in the afterlife. Around 8,000 vivid life-size Terracotta Warriors have been found so far. First, visit the largest and most imposing pit, believed to contain over 6,000 terracotta figures of soldiers and horses. You will be amazed by this subterranean life-size army of thousands standing silently to guard the emperor. Marvel also at the fabulous artistic skills of ancient Chinese artisans. Next, move to another pit where you can see around 1,300 warriors and horses. Examine the ancient army formation, including the kneeling and standing archers, the chariot war array, and numerous troopers holding weapons.
After lunch, head to the Giant Wild Goose Pagoda, one of Xi'an's most recognizable landmarks and symbol of the magnificence of the Tang Dynasty. This seven-story pagoda standing in the tranquil Da Ci'en Temple is one of China's best examples of a Tang-style pagoda (squarish rather than round). It was completed in AD 652 to house Buddhist sutras brought back from India by the monk Xuan Zang. His travels inspired one of the best-known works of Chinese literature, Journey to the West. Later, visit the Ancient City Wall, also known as the Fortification of Xian, representing one of the oldest, largest, and best-preserved Chinese city walls. Spend time leisurely walking the wall and enjoying its inner and outer walls, watchtowers, and moat, taking in panoramic views of modern Xian.
Accommodation
3-star hotel in downtown Xian
Day 8 Xian to Beijing by High Speed Train | Muslim Quarter, Bell & Drum Tower Square
Visit Muslim Quarter first, get to Xian by high-speed train, train station pick-up, and hotel check-in. (B)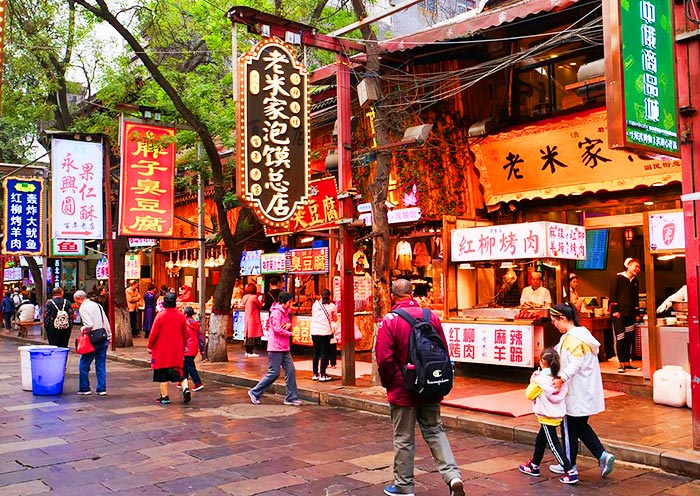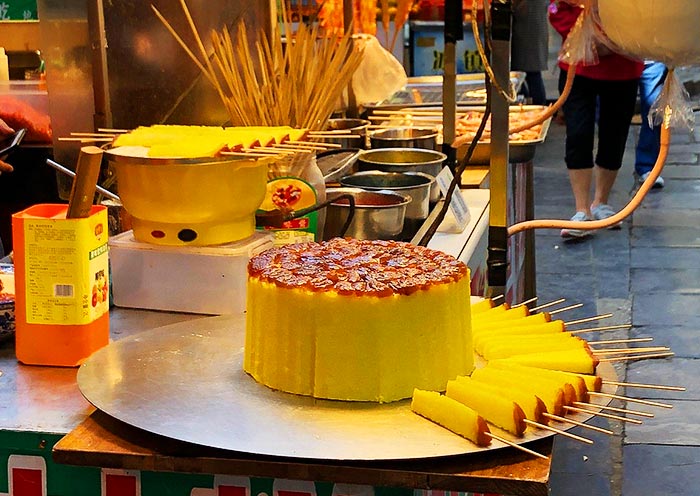 In the morning, you will have the opportunity to explore the vibrant and bustling Muslim Quarter (Muslim Street). This historic quarter, situated just behind the Drum Tower about 430 meters west of the Bell Tower in downtown Xian, has been around for over 1,000 years. The awe-inspiring Bell Tower and Drum Tower, both landmarks from the Ming Dynasty dating back 600 years, will be beautifully illuminated, creating a captivating backdrop for stunning photos showcasing the harmonious blend of ancient history and modernity in Xian. In the evening, you may also have the chance to witness the enchanting musical fountain and lively square dancing near Bell & Drum Tower Square (Zhongulou Square), allowing you to immerse yourself in Xian's vibrant nightlife like a local.
After the tour, you will be transferred to the train station for your high speed train to next destination - Beijing. Upon arrival in Beijing, your guide will meet you at the train station and escort you to your hotel. The rest of the day is free on your own so you can explore by yourself around your hotel.
Transportation
high speed train
Accommodation
3-star hotel in downtown Beijing
Day 9 Beijing City Tour | Tian'anmen Square, Forbidden City, Summer Palace
A full-day Beijing tour with Tiananmen Square, Forbidden City, and Summer Palace. (B+L)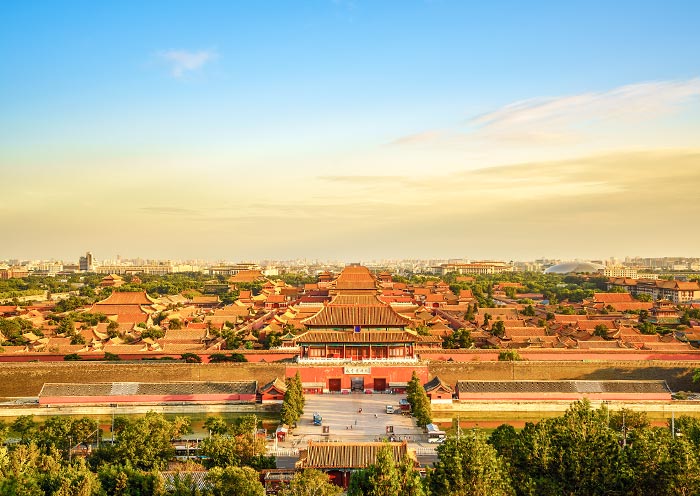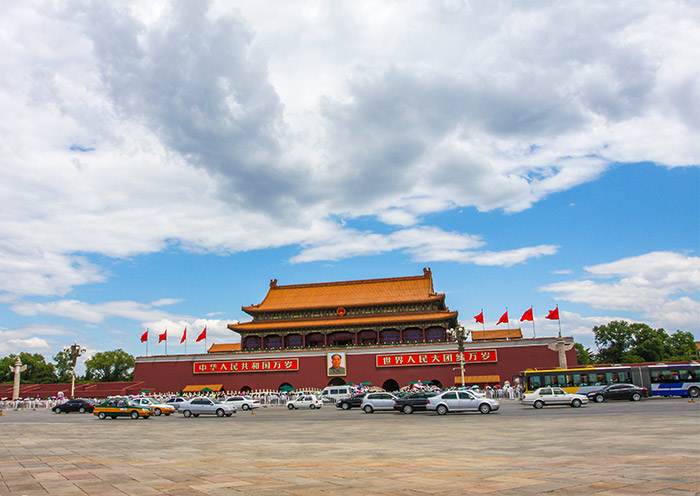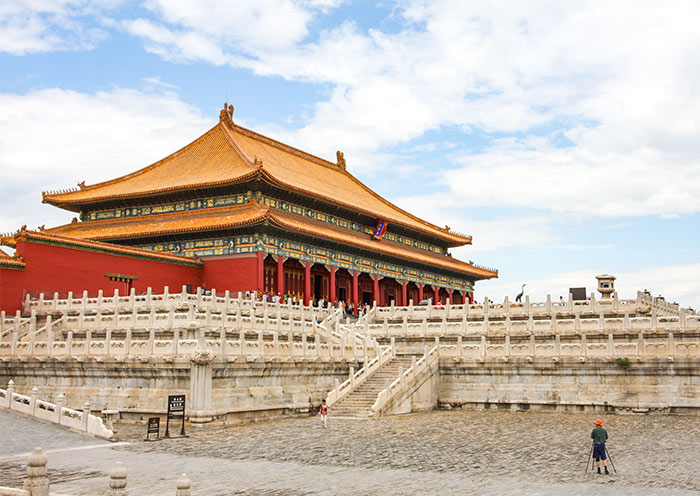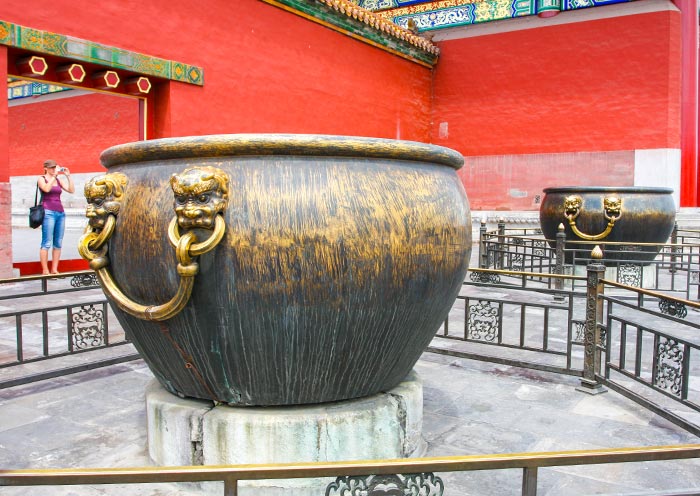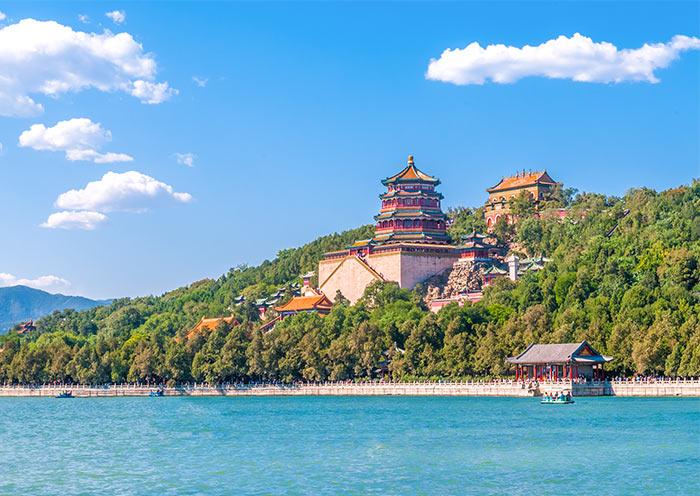 Today you will spend the whole day exploring the ancient citadel of Beijing through China's famous landmarks, imperial grandeur, and royal gardens.
After breakfast, your guide will pick you up at your hotel and head to Tiananmen Square, the world's largest public square and symbol of China. It has witnessed many major events in China's history over the past decades, and from here you can take great photos of Tiananmen Gate, seen daily on CCTV News.
Walking across the square, you will visit the mighty and splendid Forbidden City, the world's largest palace complex and former home of 24 Chinese emperors. Listed as a UNESCO World Heritage site, the Forbidden City has about 500 years of history, serving as the political and ritual center of China during the Ming (1368-1644) and Qing (1644-1911) dynasties. With over 8,700 rooms, it is not only China's largest and best-preserved collection of ancient buildings, but also a city within a city, like the Vatican in Rome. Enter through the Meridian Gate and visit along the central axis to ensure you see all the highlights. Admire the brilliant architecture and numerous ancient treasures while listening to your guide share stories of the emperors who once lived here.
Later, take a 15-minute walk up to Jingshan Park, where you can enjoy magnificent panoramic views over modern Beijing and the Forbidden City's russet roofs.
In the afternoon, drive to the Summer Palace, the "Museum of Royal Gardens," once a summer retreat for royal families. The grounds, temples, gardens, pavilions, lakes, bridges, gate-towers, and corridors are marvels of landscape design. Take a leisurely stroll to appreciate the imperial architecture, hilltop views, and beautiful lakes, which offer a pastoral escape into the landscapes of traditional Chinese painting.
(Travel Note: Beijing's Forbidden City is closed on Mondays. On those days, you will instead visit the Temple of Heaven or Prince Gong's Mansion.)
Attractions
4 iconic sites
Accommodation
3-star hotel in downtown Beijing
Day 10 Beijing Great Wall Tour | Mutianyu Great Wall, Bird's Nest & Water Cube
A visit to Mutianyu Great Wall by cable car (round-trip), a glimpse of Bird's Nest & Water Cube on the way back downtown. (B+L)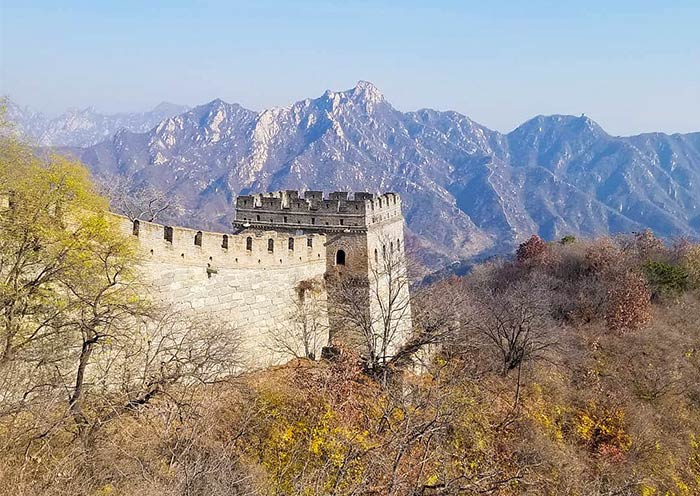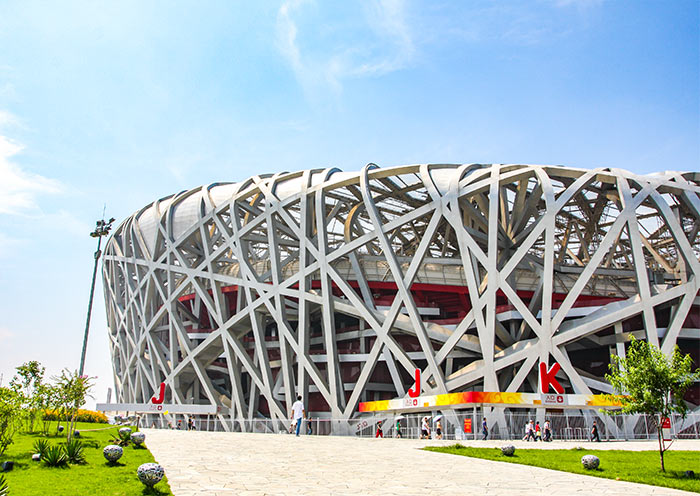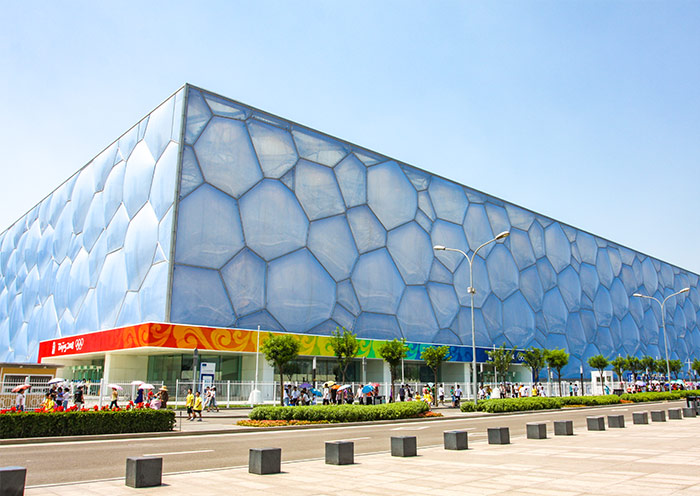 In this morning, you will head northwest of Beijing (about 1.5-2 hours' drive, 73km) to the Great Wall at Mutianyu. The Great Wall boasts a history over 2,000 years and stretches more than 3,000 miles across several provinces of northern China, making it one of the most impressive ancient masterpieces on the planet. Mutianyu Great Wall is connected with the Jiankou Great Wall in the west and the Gubeikou Great Wall in the east. Mutianyu is the longest and best fully-restored Great Wall with fewer tourists and is also famed for its 23 Ming-era watchtowers and stunning views. Take the cable car up to the 14th watchtower and then enjoy the memorable hiking time on the wall while visiting its western route. With the green pines and cypresses covering the surrounding area, and the winding wall standing majestically on the vast land, you will capture the most stunning natural scenery in this section. Challenge yourselves while climbing up to the 20th watchtower where you could fulfill your Great Wall dream. Cherish the chance and take photos as many as you like!
After the once-in-lifetime experience, head back to downtown Beijing and have the chance to take photos with the exterior of the Bird's Nest (Beijing National Stadium) and Water Cube (Beijing National Aquatics Center). They were both designed for the 2008 Beijing Olympics and used for the 2022 Winter Olympic Games.
After that, transfer back to your hotel and have a good rest tonight.
Accommodation
3-star hotel in downtown Beijing
Day 11 Departure from Beijing (hotel check-out and airport see-off)
Depart from Beijing, hotel check-out before 12:00, and airport see-off. Safe journey home. (B)
It is time to end your 11-day China tour. You will have some free time in Beijing and explore more on your own till your guide escorts you to the airport/train station for your flight or high speed train to your next destination.
Trip Extension Ideas: If you want to explore other Asia destinations rather than return home right away, we would be glad to assist you with an extension trip. Feel free to tell us your ideas!
Thank you for choosing Asia Odyssey Travel for your China tour, and we are always here working for you and hope to see you again for your next trip to China/Asia. Safe journey!
Attractions
Explore freely today
Choose Your Travel Date and Get Free Enquiry
Month
Arrival Date
Departure Date
Price
Book The Tour
Dec.
Dec.9, 2023
Dec.19, 2023
from $1885
Free Enquiry
Dec.19, 2023
Dec.29, 2023
from $1885
Free Enquiry
Jan.
Jan.9, 2024
Jan.19, 2024
from $1885
Free Enquiry
Jan.19, 2024
Jan.29, 2024
from $1885
Free Enquiry
Feb.
Feb.10, 2024
Feb.20, 2024
from $1885
Free Enquiry
Feb.20, 2024
Mar.1, 2024
from $1885
Free Enquiry
Apr.
Apr.2, 2024
Apr.12, 2024
from $1885
Free Enquiry
Apr.11, 2024
Apr.21, 2024
from $1885
Free Enquiry
Apr.21, 2024
May.1, 2024
from $1885
Free Enquiry
May
May.11, 2024
May.21, 2024
from $1885
Free Enquiry
May.31, 2024
Jun.10, 2024
from $1885
Free Enquiry
Jun.
Jun.18, 2024
Jun.28, 2024
from $1885
Free Enquiry
Jul.2, 2024
Jul.12, 2024
from $1885
Free Enquiry
Jul.
Jul.16, 2024
Jul.26, 2024
from $1885
Free Enquiry
Aug.
Aug.2, 2024
Aug.12, 2024
from $1885
Free Enquiry
Aug.16, 2024
Aug.26, 2024
from $1885
Free Enquiry
Sep.
Sep.2, 2024
Sep.12, 2024
from $1885
Free Enquiry
Sep.16, 2024
Sep.26, 2024
from $1885
Free Enquiry
Oct.
Sep.30, 2024
Oct.10, 2024
from $1885
Free Enquiry
Oct.20, 2024
Oct.30, 2024
from $1885
Free Enquiry
Nov.
Nov.9, 2024
Nov.19, 2024
from $1885
Free Enquiry
Dec.
Dec.9, 2024
Dec.19, 2024
from $1885
Free Enquiry
Dec.29, 2024
Jan.8, 2025
from $1885
Free Enquiry
Price: What's Included & What's Excluded
The above price is based on a group tour for 2 people sharing one standard double-bed room in 3-star hotels.
Price varies depending on travel date, group size, hotel class, program in your itinerary and possible fluctuation of currency exchange rate.
What's Included:

Drivers & air-conditioned vehicles

Professional licensed English-speaking local guide

Hotel accommodation with breakfasts (3-star standard)

Transportation listed in the itinerary

Admission tickets, activities, meals listed in the itinerary

Accident insurance

Our service from tour planning, handling, operational and finishing your trip
What's Excluded:

International airfares

Entry Visa fees

Personal expenses

Single Room Supplement

Recommended optional activities

Arrival/departure flights or train on the first and last day

Tips or gratuities for guides and drivers
Hotel Selections in China for Group Travel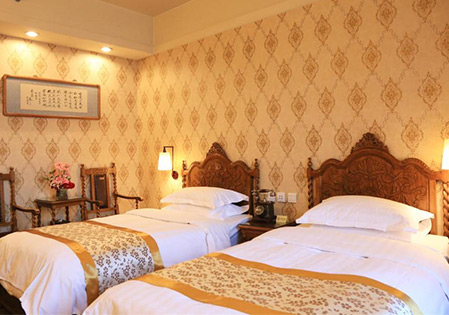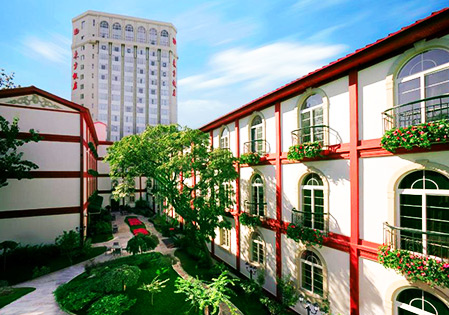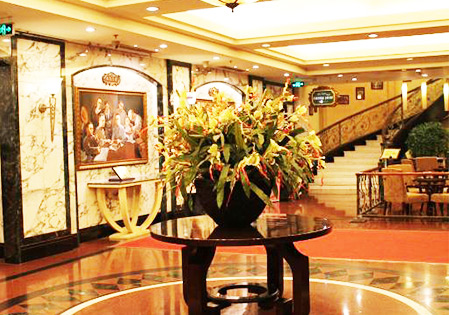 In a group tour, you will stay in well-selected 3 star hotels at good location in each destination. All the hotels we chose (except for basic accommodation condition when travel to Mount Everest) have windows, air-conditioners, hot water, showers, wifi... to ensure you comfortable sleep. If you want to upgrade your hotels to 4-star or 5 star, please contact your personal travel consultants for detailed quotation.
You will share a standard double room with your partner. If you travel in family of two, it will be perfect to live in the same room. If you want to have your own room, you need to pay the single room supplement.
Important Trip Notes for Booking a China Group Tour
How do I book a China group tour?
Select your travel dates and click "join-in a tour". You will get free enquiry and don't need to pay immediately. After sending us your requirements, one of our professional travel experts will get back to you within 0.5 to 24 hours and we guarantee to reserve a place for you first. When all the information have confirmed, then you make the payment. Please feel free to contact the travel expert directly if you have any questions prior to booking.
Transportation
In a group tour, it means you will transfer to the tourist attractions in one city by coach. The maximum group size will be 12 people. It will be a small group size traveling at comfortable pace. The coach we selected is spacious and comfortable. As for traveling between two destinations, we use domestic flights (economy seat) or high speed trains (second class seat, usually less than 6 hours). The local guides and drivers will pick you up at the airport/train stations, and escort you to the hotel.
Meals
"B" stands for breakfast. You will have it at your hotel in the morning.
"L" stands for lunch. The restaurants we will arrange for you are all designated tourist restaurants approved by local tourist administration bureau. All are in good sanitary conditions. Lunches are usually included if you have a full day tour in one destination. Your guide will assist you with ordering the dishes. If you will travel from one city to another, lunches are excluded and you can ask the guide for some suggestions about where and what to eat.
"D" means dinner. All dinners are excluded in the itinerary. You have the chance to taste some authentic Chinese food and local snacks.
If you have special dietary requirements (vegetarian, halal, kosher, Indian, or gluten-free), please let us know before your booking. We will try our best to take care of you.
Additional Cost
Please note that arrival or departure on dates outside of fixed tour schedules will incur additional fees.
Latest China Group Tours Reviews from Our Customers
Discover what our customers are saying about the latest China Group Tours. Browse through their recent reviews and feedback on tour arrangements, guides, transportation, attractions, dining, hotels, and detailed itineraries to plan your own unforgettable China tour.
View All Customers Reviews >>

Solo Traveler's Experience with Asia Odyssey Travel's Group Tour
As a solo traveler seeking to connect with fellow partners, I opted for the cost-effective option of a group tour. After thorough online research, I discovered Asia Odyssey Travel's China Group Tour. The "13 Days Relaxing China Tour with Yangtze Cruise in Small Group" caught my attention. Joining this tour proved to be an incredible experience. From the awe-inspiring historical sites in Beijing and Xian to the captivating landscapes of Guilin, every moment left a lasting impression. The serenity of the Yangtze Cruise enhanced the overall relaxation on this small group tour. Wrapping up the journey in vibrant Shanghai was the perfect ending. I wholeheartedly recommend it to others!
read more

See more

Photos of Asia Odyssey Travel

Gallery

A memorable experience to join a small group tour in China for 11 days
Joining the small group tour in China with Asia Odyssey Travel was truly unforgettable. With just 8 people in the group, it fostered a sense of camaraderie among fellow travelers. The cost-sharing aspect made it an affordable choice, which was an added bonus. From the lively cityscape of Shanghai to the awe-inspiring beauty of Huangshan and the cultural treasures of Xian and Beijing, each destination left a lasting impact. Both I and David particularly enjoyed the exhilarating hikes at Mutianyu Great Wall and Yellow Mountain. China's breathtaking nature was truly amazing. We highly recommend this tour for a unique and cost-effective travel experience!
read more

See more

Photos of Asia Odyssey Travel

Gallery

Join 8-day China Group Tour! A Great Experience in China...
We, a family of three from Australia, enjoyed a trip to China in October this year. We have been preparing for this trip for three years. Before finding Asia Odyssey Travel, we also inquired with some local travel companies in Australia and China. After comparing, we found that the itineraries offered by Australian companies were relatively limited, and they required a minimum of 16 people to form a group. Therefore, we ultimately chose the 8-day group tour package with Asia Odyssey Travel. In our group, there are a total of three families, consisting of 6 people. The other members are from Germany and the United States. It was an amazing trip. Asia Odyssey Travel assigned different tour guides and drivers to us in different cities, and they were all very kind and professional. They provided us with fascinating insights into the geography, history, and culture of China, leaving us with a remarkable understanding of the country.
read more

See more

Photos of Asia Odyssey Travel

Gallery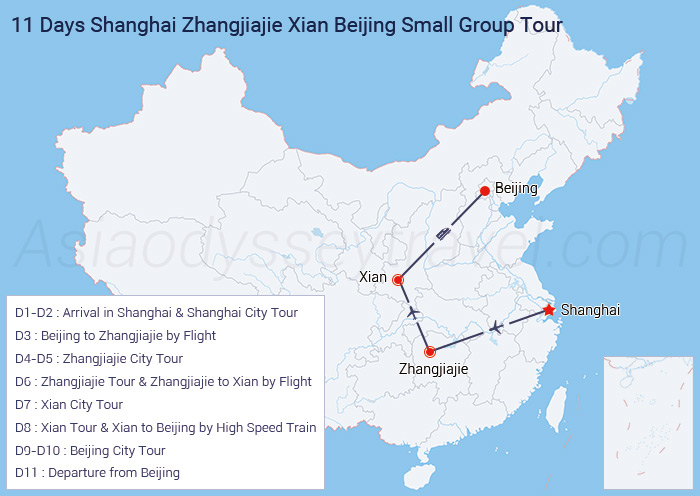 Other Recommended Group Tours